Services
At Sound Space Vision we connect the worlds of performing arts, education and worship with that of architecture and engineering, providing design and consultancy in acoustics, auditorium and stage design, including sound, lighting, and stage machinery systems. We help you achieve superior architecture that looks beautiful, sounds wonderful and functions at a very high level.
Theatre Planning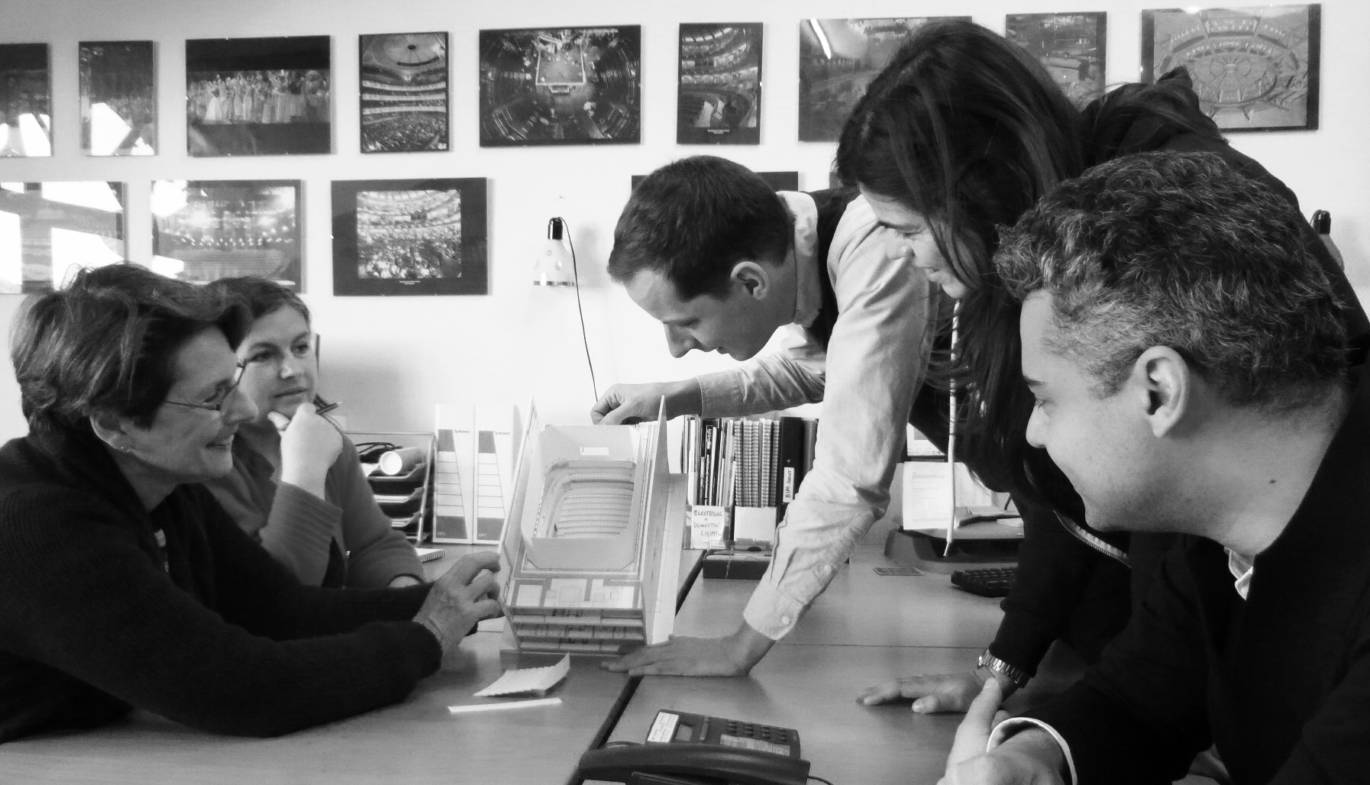 Backstage planning
Backstage and stage connectivity
Vehicle movement and deliveries
Front-of-house planning
Wayfinding
Theatre Planning deals with every aspect of the building that affects the performance. Sound Space Vision works with architects and engineers on the layout of the backstage areas to make operational efficiency and access for deliveries, scenery, performers and technicians including backstage interfaces to accessing the stage or performance area. Within this spaces planning we are mindful of supporting the future users' creative production process.
For the layout of front of house areas, we inform on box office, cloakroom, toilets and easy wayfinding within the foyer. Our work is all-performance encompassing. We extend the arts identity of the building to the edges of the site and working iteratively with the architect to a successful scheme.
Auditorium Design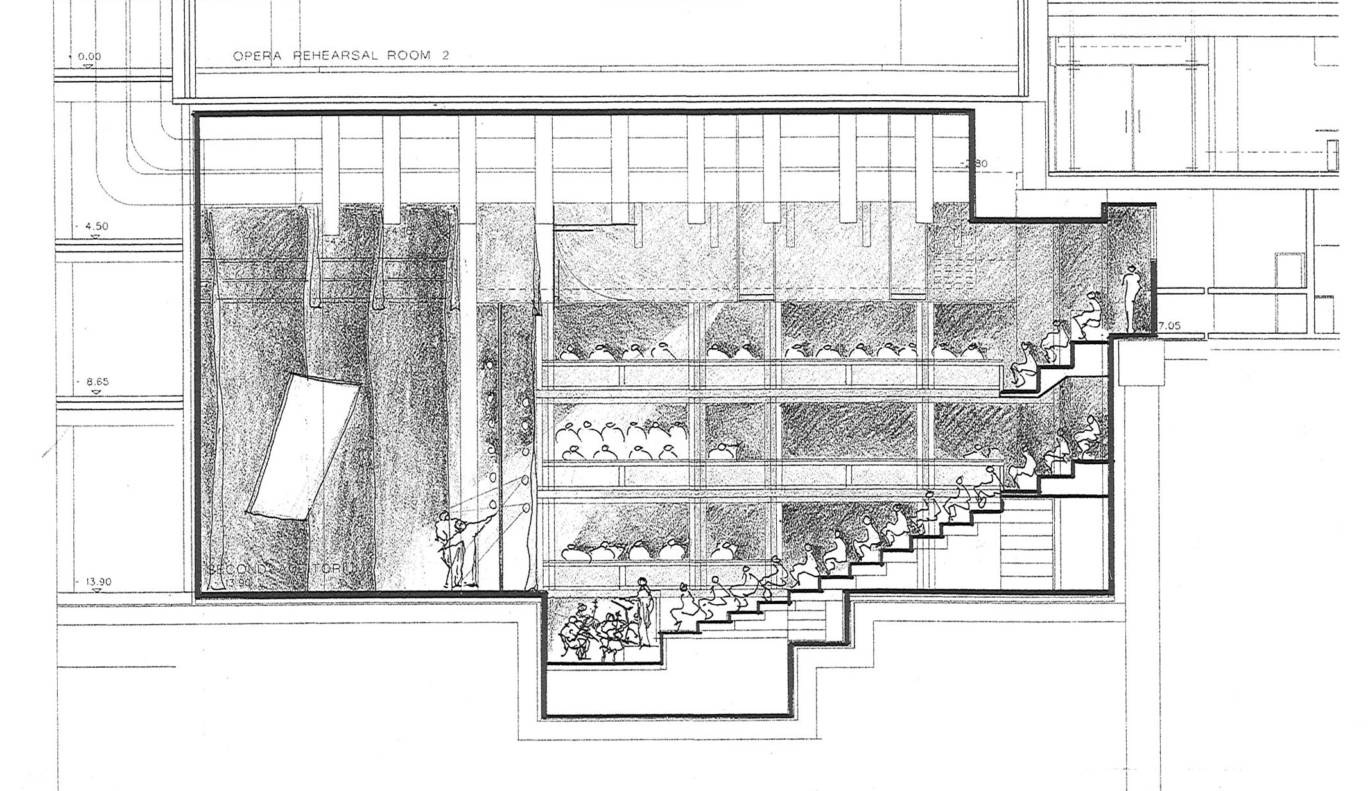 Auditorium form
Sound Space Vision co-creates a form for a performance space with the architect. Firstly we identify the relationship between the future users and the space whilst considering the architect's aesthetic expression of the space. This enables us to define the performance area in all dimensions, arranging the audience to give maximum involvement in the performance, and relating the audience to each other as well as to the performers. We perceive and develop the dynamic interaction possibilities of the space, collaborate with the architect to set out the rakes, balcony heights, and geometry of the space, and advise on the inclusivity of the audience experience.
Performance Space Acoustics
We have experience in the design and construction of the full spectrum of performing arts venues and worship spaces from the very large – opera houses, concert halls, theatres, and multi-purpose auditoria, to the very small – sound studios and practice spaces; and, from precious listed buildings to cutting-edge architecture, and to pop-up events.
We create the desired acoustic by manipulating form and materials, working within project constraints and in collaboration with the project architect to balance sightlines and sound quality, connecting performers and audiences in a fulfilling experience. We focus on "perception based design"— combining human perception, design expertise, project experience, and forward-looking technology.
We ensure that nothing gets in the way of creating a memorable and immersive experience. Key to this is "dramatic silence," and we protect this gold standard, which calls for a design to the threshold of hearing. This need not be prohibitively expensive, and we concentrate on achieving designs that meet the needs of all interested parties.
Geometry
The scale and shape of the auditorium are fundamental determinants of acoustics and visual connection between audience and performers. We form the shape of each auditorium on the basis of key client priorities for quality of experience for audiences and performers, room capacity, atmosphere, and programming. Working fluently with both acoustics and sightlines, we prepare sketches, computer models and often three-dimensional models to study with the architect and client.
Materials
Our work touches virtually every surface of a theatre or concert hall. Our guidance and collaboration with each architect on material finishesis based on acoustical purpose, but is carried out in architectural language and with the specific sound quality goals at heart.
We work with an architect's aesthetic, and, where required, the imperatives of heritage restraints.  We are
equally open to new and traditional materials, are cost conscious, and believe in honesty of materials.
Seating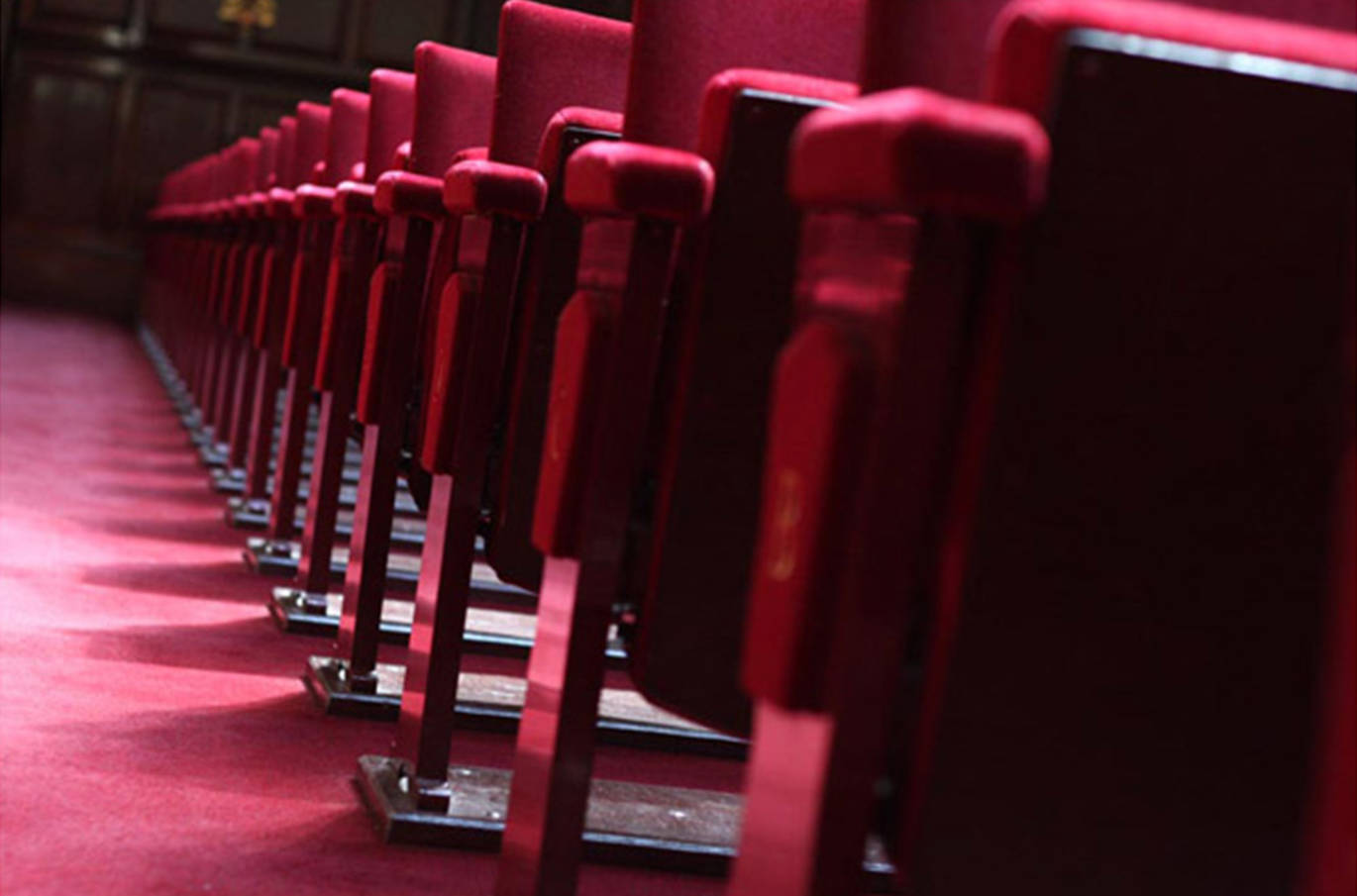 Relationships / Sightlines
Fire safety
Accessibility
Seat design
Arranging the audience to give maximum involvement in the performance, and relating the patrons to each other as well as to the performers, is one of the pinnacles of our creative process. We execute specialised 3D modelling for sightlines and acoustics to demonstrate important aspects of human factors. This goes hand in hand with planning in relation to fire safety and accessibility regulations, and, where required, flexible designs to support a range of uses. We advise on seating design and specification to meet both the budget and operational criteria, and relating all to room form, acoustics, movement, and automation.
Architectural Acoustics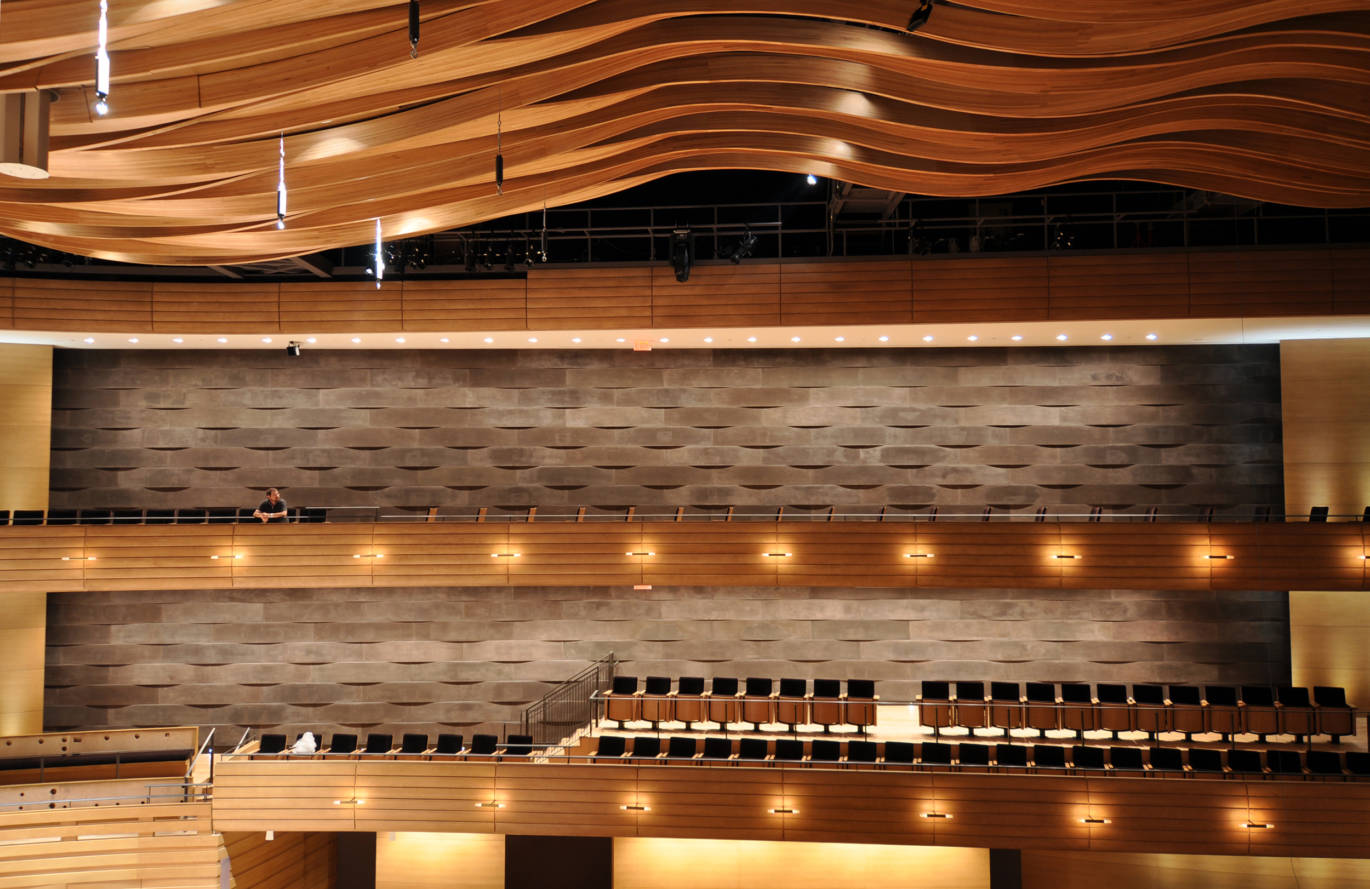 Architectural Acoustics is the process of finessing the building form, shape, size, materials, and finishes to enable every space to excel acoustically as well as architecturally. These parameters are different for every use, but can be aligned and sometimes varied to allow for multiple uses.
We are experts in architectural acoustics, noise and vibration control, sound insulation design and testing, and environmental monitoring. We design the acoustics for concert halls, theatres, opera houses, studios, worship spaces, lecture halls, and galleries, where communication of artistic intent is crucial to the experience. We also work in the residential and educational markets, meeting and exceeding the standards prescribed by current regulations.
Music Acoustics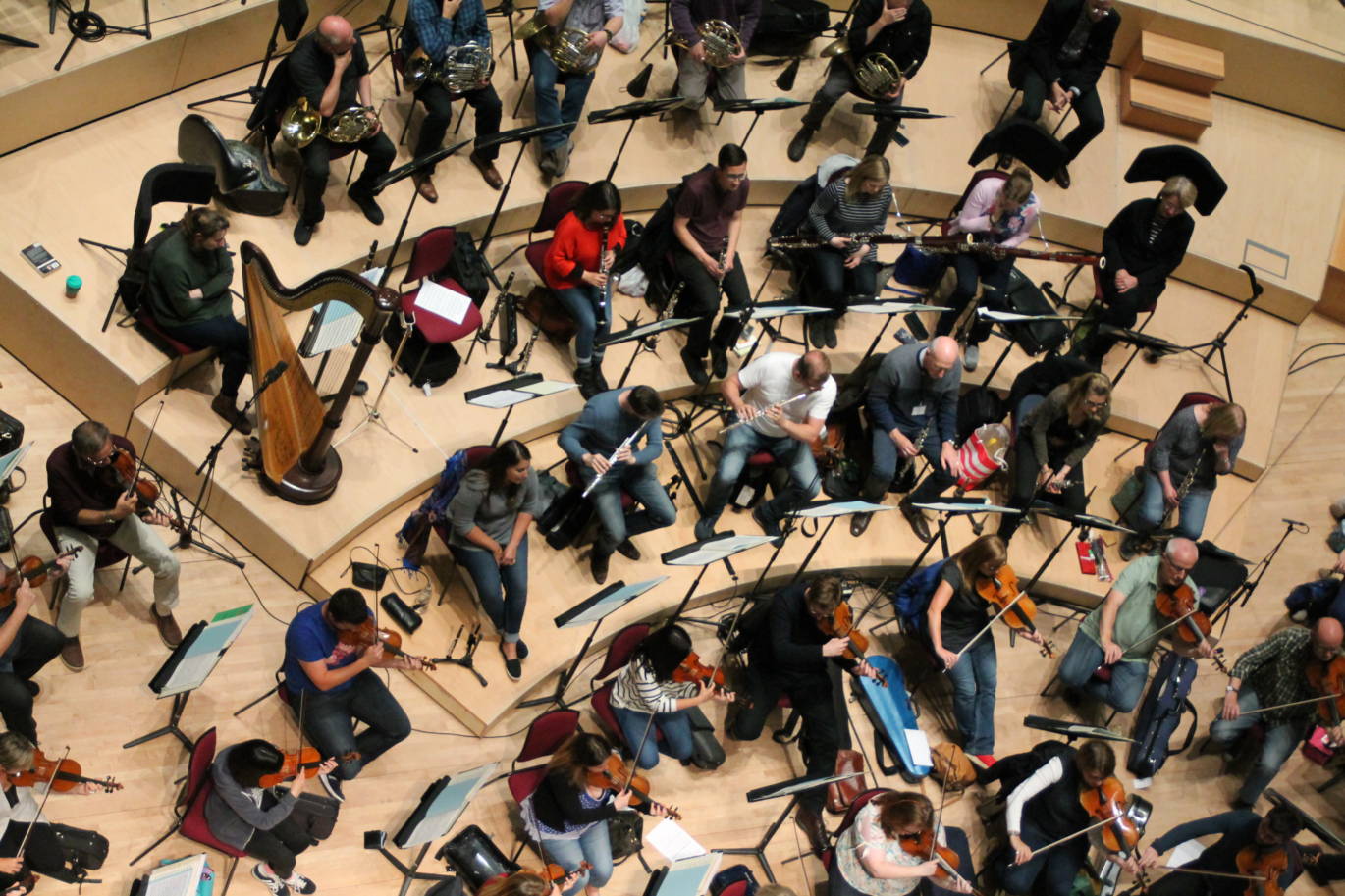 Acoustics is one of the primary aesthetic dimensions of music. Performers create the sound, the room (and perhaps amplification system) transmits it to the audience, and the audience hears it, listens, appreciates and responds. The "character" of the sound is important to both the performers and the audiences, and becomes part of the musical experience. There is emotional communication from performers to audience, from audience back to performers, and between the performers. Some of the factors we consider are:
Acoustics for performers
Hearing each other – communication between players/singers/speakers
Honesty of tone – performers convey the sound they want to make
Support from the room response – to feel the room is an extension of the instrument or the ensemble
Control of over-loudness – for the long-term health and safety of performers onstage, and in rehearsal studios and practice rooms
Acoustics for audience
Impact, strength
Immersion, surround
Balance of clarity and reverberance
Warmth of tone
Balance between sections
In an existing facility we outline how the constraints of the building can inform the acoustical quality, and help the client balance the quality with the budget.
Good acoustics for amplified music are generally not the same as for natural sound. We address acoustics and uses together, first at a strategic level with the business plan and programming intentions. We consider acoustical flexibility, and when it is appropriate. And, we decide on the most appropriate technologies, eg. flexible geometry, flexible finishes, and electro-acoustic enhancement.
Sound Isolation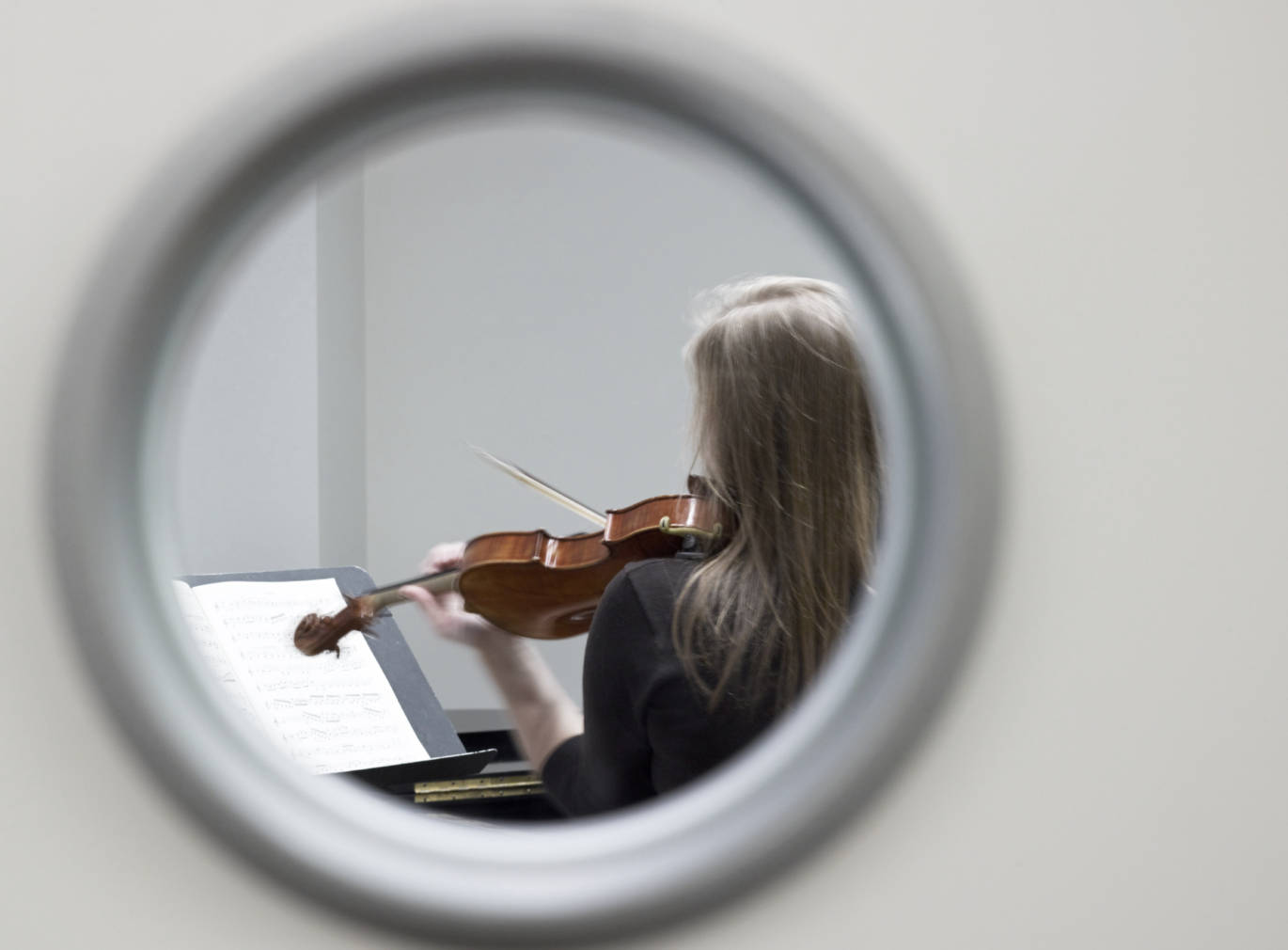 Sound Space Vision advises on architectural and engineering solutions to control noise transmission between rooms, between outside and inside, and environmental noise and vibration from air, road, rail, and sub-way traffic.
While isolation for residential and education purposes is now well-integrated into the building control and regulatory framework, it is also a crucial aspect of the successful operation of a wide range of venues, from music practice spaces and home cinemas, to recording studios, pubs, clubs, and multiplex cinemas. SSV can provide advice at any stage of the process, from concept design through to detailing, construction, and commissioning measurement.
The acoustical quality of the external environment is as important for the neighbours of outdoor venues as it is for the interior design of an auditorium, to prevent disturbance above an acceptable level. We have the specialist equipment and expertise to perform environmental measurements and monitoring over the long- or short-term, for whatever purpose.
We follow a project through from design to construction with site visits at the appropriate times to check wall constructions, services penetrations, door and window installation, and special isolated box-in-box constructions.
Building Systems Noise and Vibration Control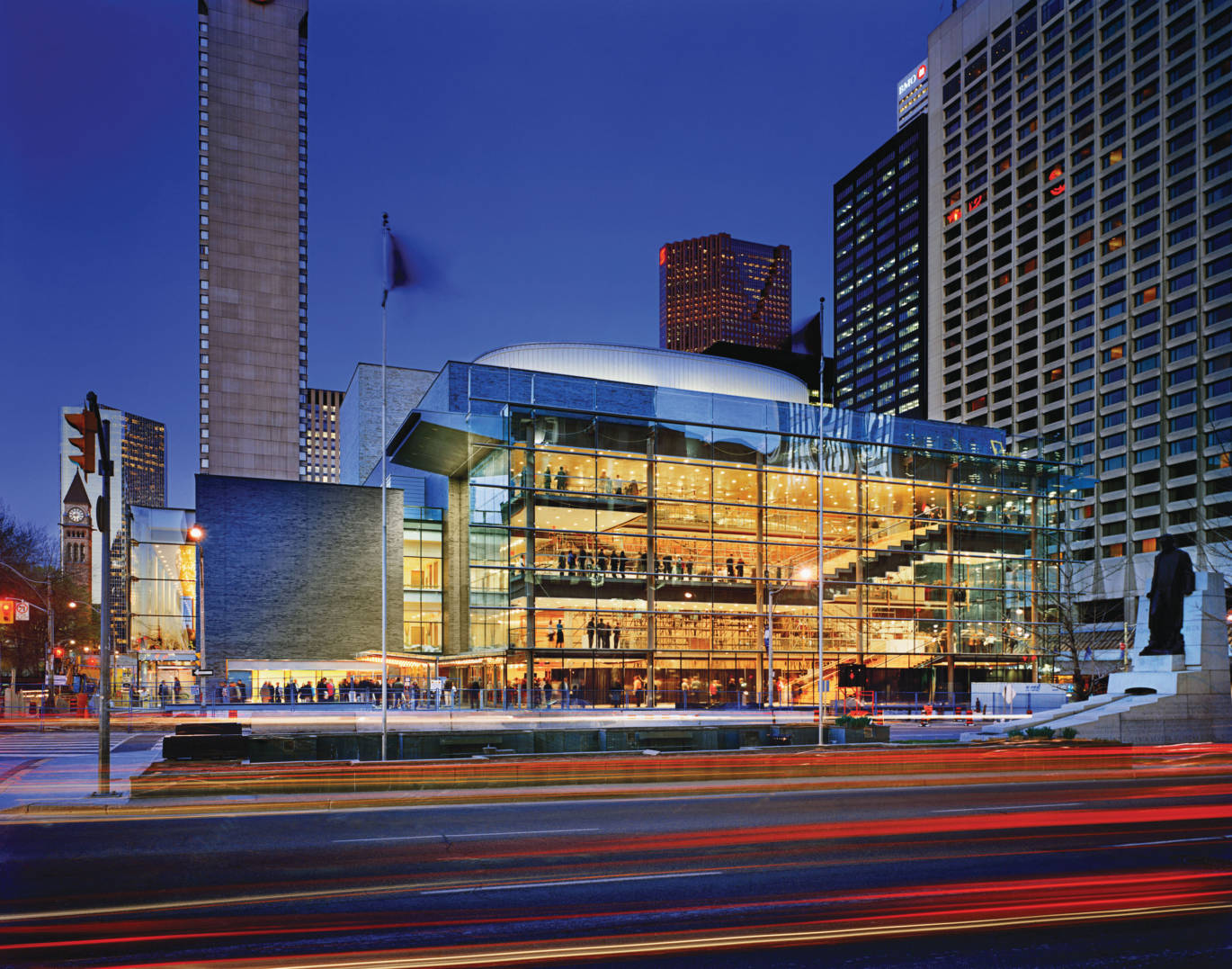 This is the engineering of systems, materials and technologies to control noise from mechanical, electrical, and elevator systems as appropriate throughout a building, and noise emission to neighbours. We advise the project engineers on how to cost-effectively control noise generation and transmission, including the following:
Heating, ventilation, plumbing, and air-conditioning (HVAC) systems
Electrical and lighting systems – transformer and lighting noise, cooling fans
Performance lighting and projection system noise
On performing arts facilities, we guide the design and construction ensuring the auditoria, stage, and studios are very quiet – so the artists can create deep silence and meaningful impact with their work. This involves collaboration with the architect and all the engineers.
Staging Movement & Automation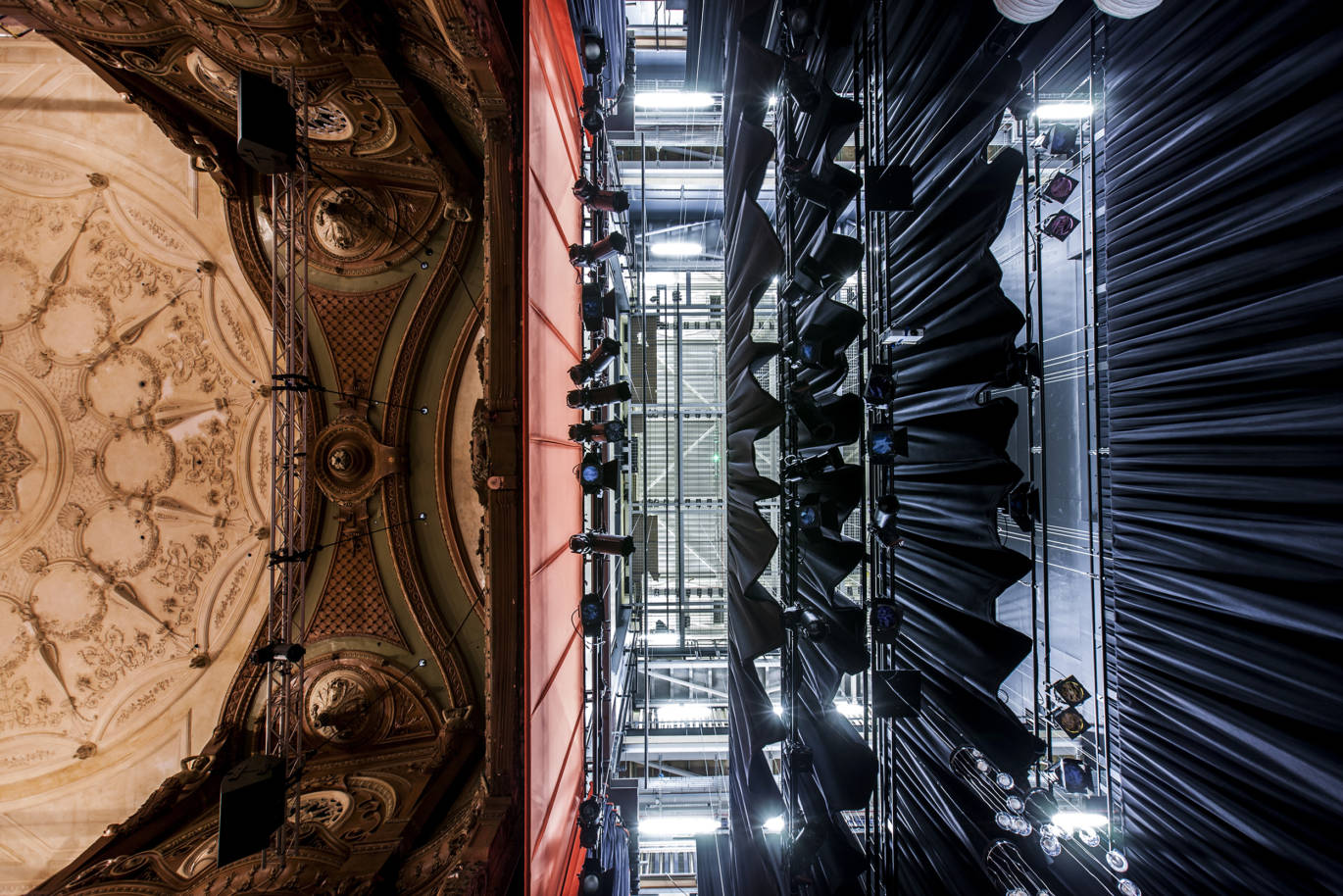 Many clients' requirements include adapting the space for more than one use. This can involve variable acoustics and the re-configuring of the moving parts of the room – extending the performance area. We design to accommodate turnaround ease and time-saving requirements, including flexible seating, and moving architecture with minimal operational impact.
Sound Space Vision's staging design includes flying systems and stage lifts. We identify equipment loading on roofs; we inform on electrical power requirements of the technical infrastructure and provide structural and electrical loads of moving equipment. We design mechanical features that enable more than one use of the space: designing platforming, stage and orchestra pit lifts, and choir seating.
In designing this "moving architecture," we enable adjustments to the performance area or stage opening. We design stage rigging, staging systems, and other stage machinery relating to engineering proposals in line with budgets, matching the design of the variable acoustics systems.
Lighting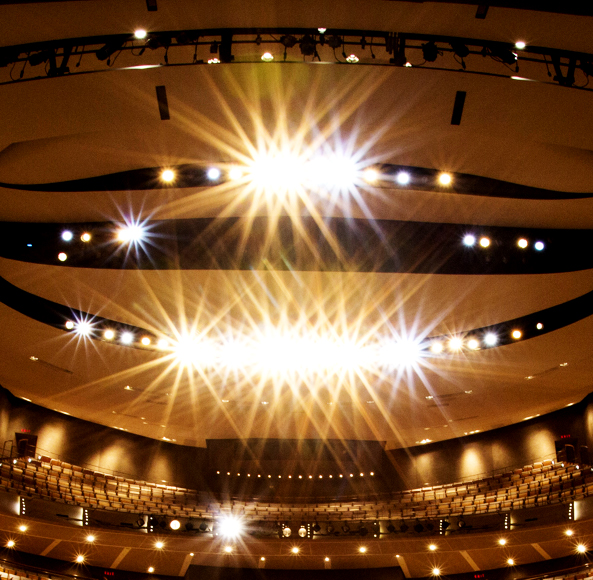 Performance Lighting / Work Lighting / House Lighting
Exterior Lighting
Electrical and mechanical loads from equipment
Control
Electrical Infrastructure / Fixtures
Sustainability
Designing lighting positions
Sound Space Vision designs production lighting systems that the enhance connection between performers and audiences, are state of art, and achieve a balance between complexity and simplicity. For house lighting, our designs show the architecture in its best light; we liaise with the architect on the philosophy, opportunities, and practicalities of lighting groups of people in the space, incorporating the design with the control of the performance lighting. And, for working light systems we advise capabilities and zones.
SSV develops system schematics, advising electrical engineers over routes, containment, and power requirements and we specify the infrastructure, control systems, and lighting fixtures within the budget available.
Audio Visual & Communications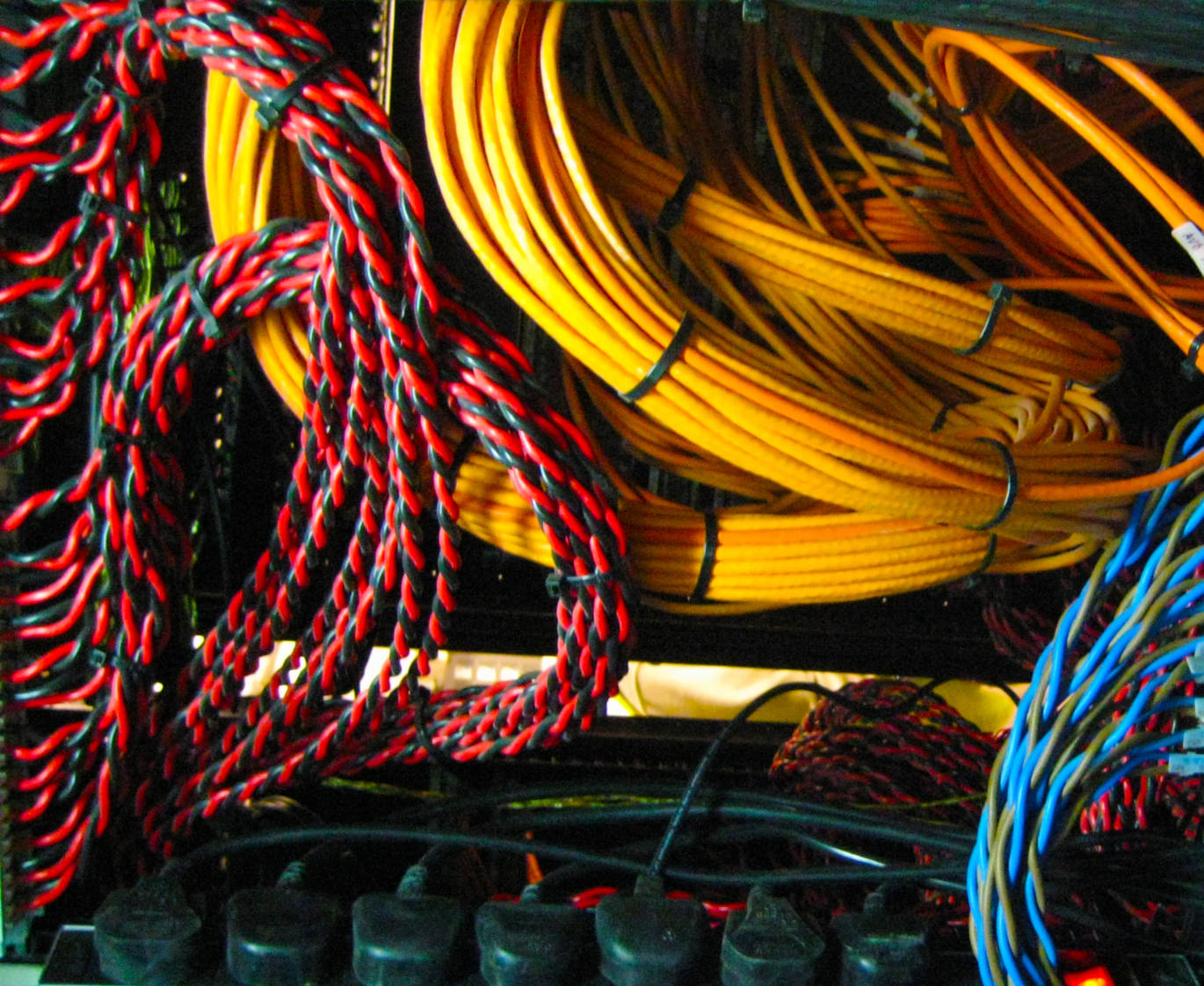 Sound reinforcement, projection for music and speech
Recording and broadcasting, connectivity between spaces
Assisted listening systems
Electro-acoustic enhancement
Electrical Infrastructure
Design and integration of equipment
Sound Space Vision designs and integrates audio, video, loudspeakers, projection screen, stage lighting, and rigging within the architecture of the space. We locate positions of loudspeakers front-of-house and within the stage/performance area. We advise on projection- and screen-size design, and identify ways of providing digital connectivity to the spaces that need it. We design facilities panels, liaising with the electrical engineers to specify the infrastructure, control systems, and loose equipment.
Modelling for Listening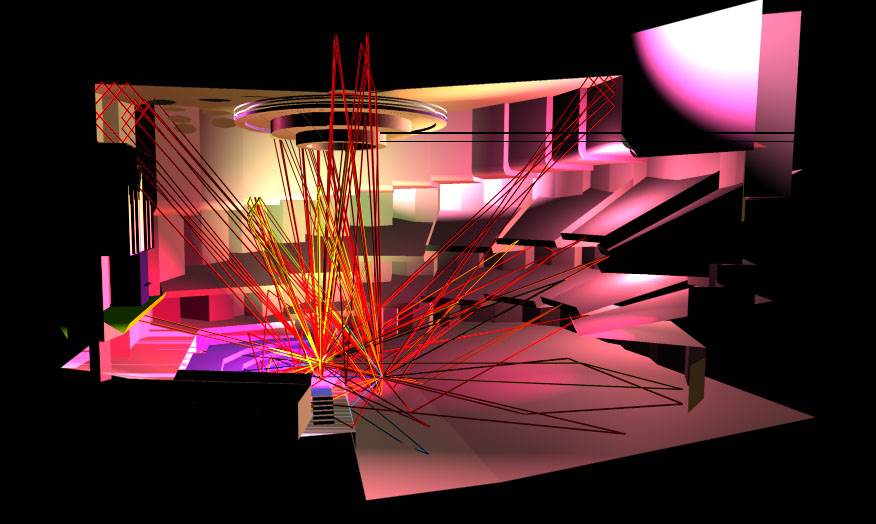 Auralisation
Sonic Arts
Virtual Reality
SSV is the world leader in the use of acoustical modelling. We create 3D computer models of spaces, including geometry and finishes, and compute the propagation of sound within the models. The process includes sound reflections among the various boundary surfaces, generating geometry-specific reverberation, and is not unlike the rendering of 3D computer graphics with light and reflections.
Sound Space Vision also designs virtual sonic environments, and has developed several 3D sound studios and immersive environments, including our own in-house facility.
Find out more: Virtual Reality ReaCTor, University College London and Sonic Arts Research Centre, Queen's University, Belfast (acoustics on both designed by Bob Essert).
Our in-house Sound Space Studio is fitted out for auralisation, virtual reality, research, and presentation. Within this space we are able to demonstrate using a variety of different technologies the aural strengths of weaknesses of venues, either designed but not built via CATT Acoustic computer models, or existing venues in which we have been able to make acoustical measurements.
This enables us, and our clients, to fine tune designs or to establish the extent to which a proposed acoustical or architectural modification can improve an existing space by way of a direct, accurate, and repeatable audible soundscape.
Bespoke Solutions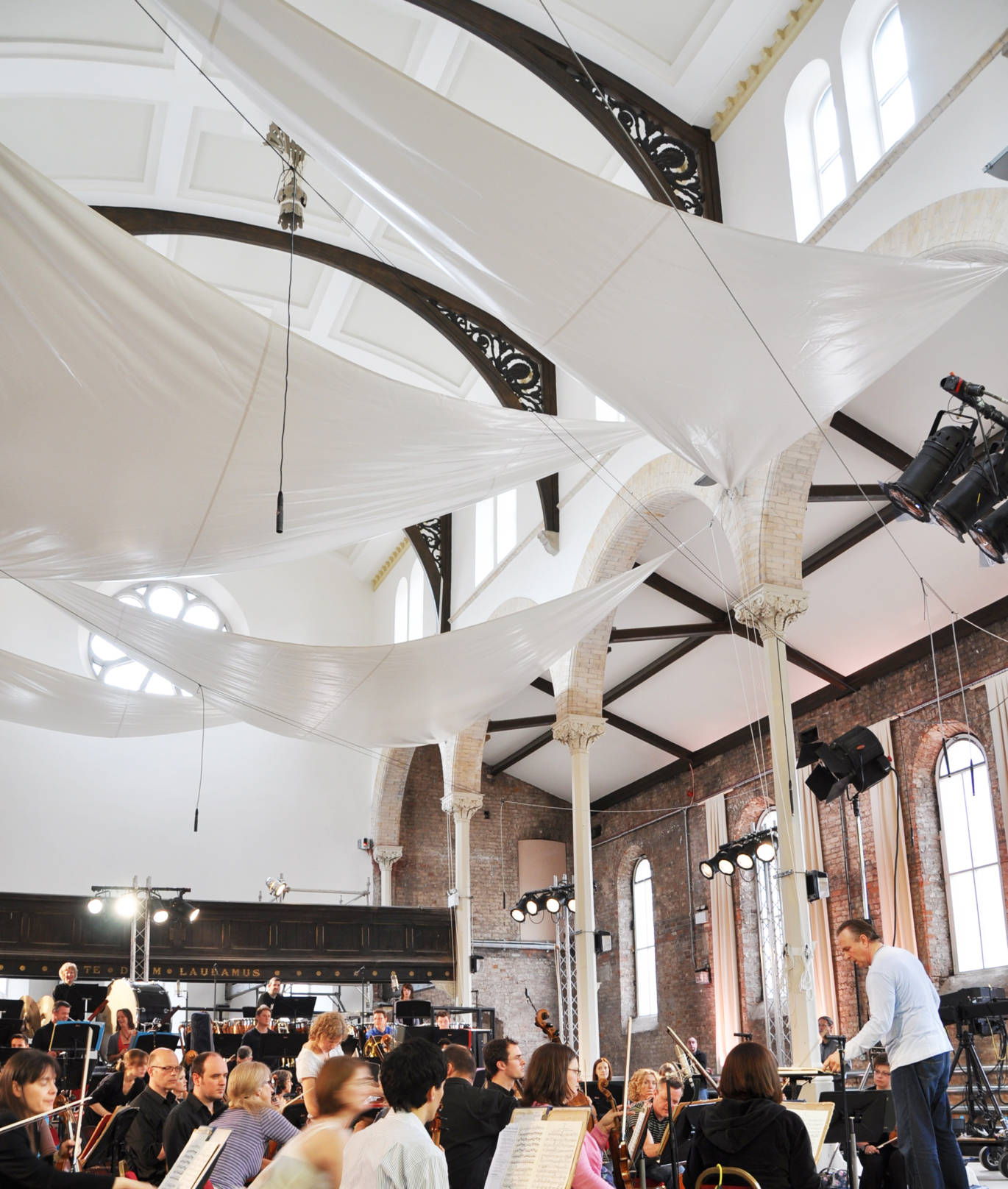 Soundscapes
We develop and plan soundscapes as part of overall urban planning or landscaping design. This includes envisioning and creating a sound environment to fit with an architectural vision.This may involve collaboration on building facade orientation and setting out to reduce traffic noise or chiller noise, to increase or decrease communication, or to create or modify the tonal character. This can be more creative than merely noise control.
We work with sound artists to explore focusing natural sounds or combine with electronic sounds, in outdoor and indoor, and public and private spaces. This holistic approach helps people feel a closer connection to each other and to their environment.
SoundSails™ – lightweight sound reflectors/absorbers
Sound Space Vision has developed an innovative new product we call SoundSails™. These specially designed fabric sails can be formed into many shapes, sizes, and arrangements, and are used to improve the acoustic locally in a space where size, shape or reverberant conditions are challenging the use of the space acoustically.
BeatBox™ – The Music Practice Solution
BeatBox™ is a containerised, sound-isolated pod. It is the perfect music practice or recording space for all types of musical instruments and bands. Sound Space Vision provides the acoustical expertise to ensure that the environment inside the space is suited for the intended use, and that no one outside will be disturbed by the sound level of the music inside!
http://www.studiobeatbox.co.uk/
Hearing Protection in Music and Theatre
We offer bespoke risk assessments as prescribed by the Control of Noise at Work Regulations and general advice on the issues surrounding workplace noise. Sound Space Vision has in-house experience of the regulations as they apply to the music and entertainment industry and can tailor our services to suit individual cases as necessary.
Process – Acoustics
Our work includes review of interim drawing submissions and draft specifications prepared by the Performance Consultant, Architect and engineers, with comments as appropriate in meetings, in writing or on marked up drawings.
1 – Preparation/ Feasibility
Most projects begin with an assessment of feasibility, clarifying the projected uses and principal spaces. We advise on dimensions for performance and rehearsal spaces based on capacity and programming. Also on adjacencies to balance operational efficiency with acoustical separation. This research forms the basis for establishing budgets. We advise on connections between uses, building brief and business plan.
For renovation and re-purposing of existing buildings we assess the acoustical aspects for suitability. This is a most important step, and our success is borne of our long experience. This is not only a scientific assessment, but is informed by experience listening to arts groups' needs. When appropriate we assess the acoustical heritage of a building in context of local culture and history to align with the conservation authority and architect.
2 – Concept Design
Because the appreciation of music is highly determined by the room geometry, for music spaces we work with the Owner priorities and take the lead on auditorium geometry. Initially this can start as guidelines for dimensions and proportions and overall shape.
Because musicians have are very sensitive to the acoustics and quality of space around them, we take the lead on setting out dimensions and geometry of performance platform and/or orchestra pit so that the design development will result in successful acoustics onstage. We assess the need for acoustical flexibility and propose variable aspects of architecture and/or stage engineering systems to achieve the appropriate flexibility in the acoustical environment, considering operational priorities and cost efficiency.
In parallel we advise on building wide planning for cost effective sound isolation and noise control – with guidelines on adjacencies, buffer spaces, circulation, services zones, and guidelines for control of mechanical and electrical systems noise – for integration into building layout by the architect and cost planning. We also assess the environmental noise for input to the planning application and initial cost planning for sound isolation.
3 – Developed Design
Our approach involves detailed collaboration with architect, engineers and theatre consultant to develop the scheme design into an integrated whole. Finishes and wall mass are integrated for cost efficiency and acoustical effectiveness. We develop the acoustical flexibility systems with the architect and theatre consultant to be integral with the architecture and address business plan priorities. This stage also includes review of proposed M&E equipment and routes and air velocities.
4 – Technical Design
We provide details and specifications for acoustics aspects of architecture and engineering for integration into the project tender documents. We review the draft progress documents in preparation by the rest of the design team. This usually includes analysis of the HVAC design and advice on duct attenuators, vibration isolators and lighting fixture noise. Details for control room windows, noise intrusion, fixing of finishes,
We have experience with different approaches to contracting, and our clients benefit from this.
5 – Construction
We review contractor submittals – hundreds of drawings, methods and samples, checking anything that could have an acoustical impact. We visit site for periodic inspection of progress and to review acoustics-related construction quality. We assist the design team to answer questions and proposed changes from the contractor. Through long experience with performing arts buildings we can bring quick solutions to difficult situations, always retaining the essential acoustical and performance quality of the design.
In the commissioning period we make final review of the entire building for anything that is not meeting the quality standard. We make measurements of background noise, room acoustics and sound isolation to verify performance.
6 – Handover & In-use
We spend time with the performers and technical team to help them get the best out of the acoustical environment. We attend opening rehearsals and performances. Sometimes we make acoustical measurements in the occupied space in a special concert arranged for the construction team and friends of the project. We prepare an acoustics manual for the operating team with important procedures to be followed for best acoustical results going into the future. We can help the Owner address the press around opening.
We follow up with visits to the staff and attendance at concerts into the future because we enjoy appreciating artistic success of our facilities and want to keep in touch with the progress of our progeny. Because we know that the opening is only the birth, the first step in a long life.
Process – Theatre Planning
1 – Preparation
Site assessment and feasibility
Defining the project vision by identifying the range of uses to be undertaken and their needs
Preparing a brief and accommodation schedule (a list of rooms with area and adjacencies)
Establishing budgets
Master planning for phased developments
Business planning
2 – Concept Design
Setting out the form of the room
Advising on building wide planning for movement of people and equipment
Identifying positions for lighting, sound and communication equipment
Identifying the equipment loading on the structure
Electrical and mechanical requirements of the technical infrastructure
Relating design proposals to budgets
3 – Developed Design
Design and integration of rigging, lighting, sound and audiovisual equipment into the architecture, to suit the needs of the building
Developing system schematics and control systems
Preparing a Technical Masterplan of Equipment
Advising electrical engineers over routes, containment and power requirements
4 – Technical Design
Specifying infrastructure, control systems and loose equipment within budget
Producing clear drawings, schematics and schedules for specialist contractors
5 – Construction
Evaluating tenders to achieve best value for client
Reviewing contractor submittals and monitoring progress during construction
Witness testing
Acoustic tests
6 – Handover & In-use
Assisting with technical riders and box office plans
Planning for future events