Orchestra Hall
Minneapolis, United States
Improving the acoustics treasured by audiences
Orchestra Hall
Author
Posted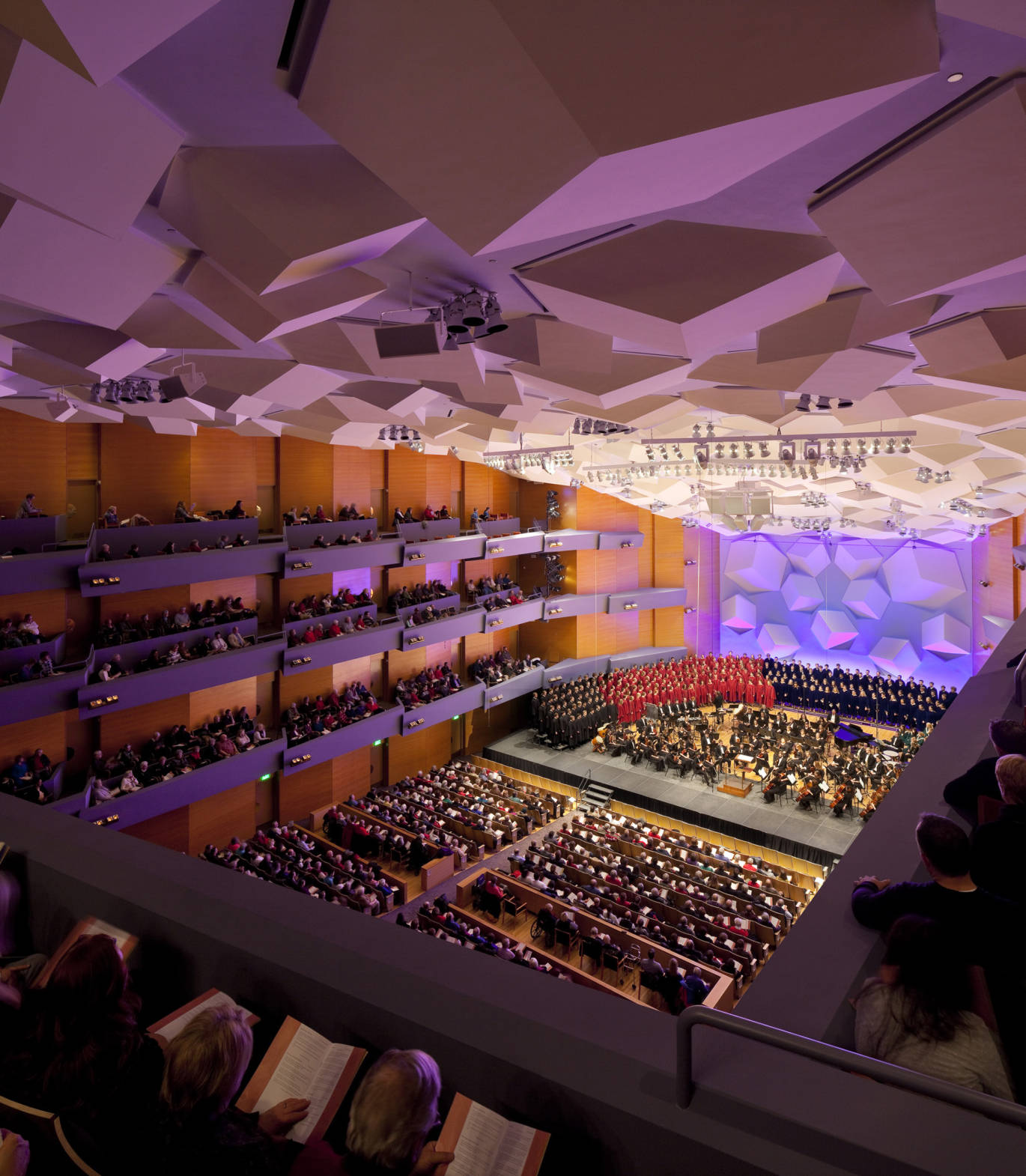 Originally opened in 1974, Minneapolis' Orchestra Hall's acoustics, while treasured by audiences, were troublesome for the musicians onstage. In April 2010 Minnesota Orchestra and KPMB Architects unveiled plans for renovations. The plans included new seating, updated technical infrastructure, improvements to the ventilation system, and new lighting. Sound Space Design was given the responsibility of safeguarding the Hall's sound while making the necessary stage adjustments to improve acoustical support for the musicians.
SSD led a structured collaboration with musicians to determine good and poor qualities for both the audience and on-stage sound. SSD proposed materials and surfaces to improve the acoustics with minimal visual impact and without detriment to already excellent auditorium acoustics.
Over the following two years, SSD spent considerable time conducting sound trials and full-scale mock-ups with the orchestra and maestro Osmo Vänskä to finesse the on-stage acoustic design. Detailed computer simulations were used alongside measurements and recordings to further refine the acoustical scheme, translating musicians' concerns into physics and architecture. In collaboration with KPMB, SSD's recommendations were integrated, often invisibly, into the iconic interior.
Further, SSD, with sound systems experts Engineering Harmonics, designed a new audio visual infrastructure and guided the Hall's technical team in purchasing a new sound system to integrate more cleanly with the architecture and improve the audio experience and programming flexibility. Crucially the new sound system also improved possibility of income for the Orchestra.
A new multi-purpose atrium to support the main hall renovation was added to SSD's brief. The atrium seats up to 200, and features adjustable acoustics as well as daylight to accommodate activities ranging from small recitals to lectures and banquets.
The hall re-opened in 2014.
2019 Best Earth-Friendly Venue
In 2019 Orchestra Hall was awarded LEED certification at the Silver level, becoming the first performing arts centre in the United States to achieve this rating. LEED, which stands for Leadership in Energy and Environmental Design, is a points-based system established by the US Green Building Council to set common standards and certify environmentally friendly buildings.
Orchestra Hall – 1
Author
Posted
The sound was as vivid and enveloping as ever – clean but not clinical, with vibrant, tangible bass and a slight, familiar stridency afflicting the brass. Sonically, the hall remains a gem.