Royal Conservatory of Music
Toronto, Canada
World-renowned teaching and performance facilities
Royal Conservatory of Music
Author
Posted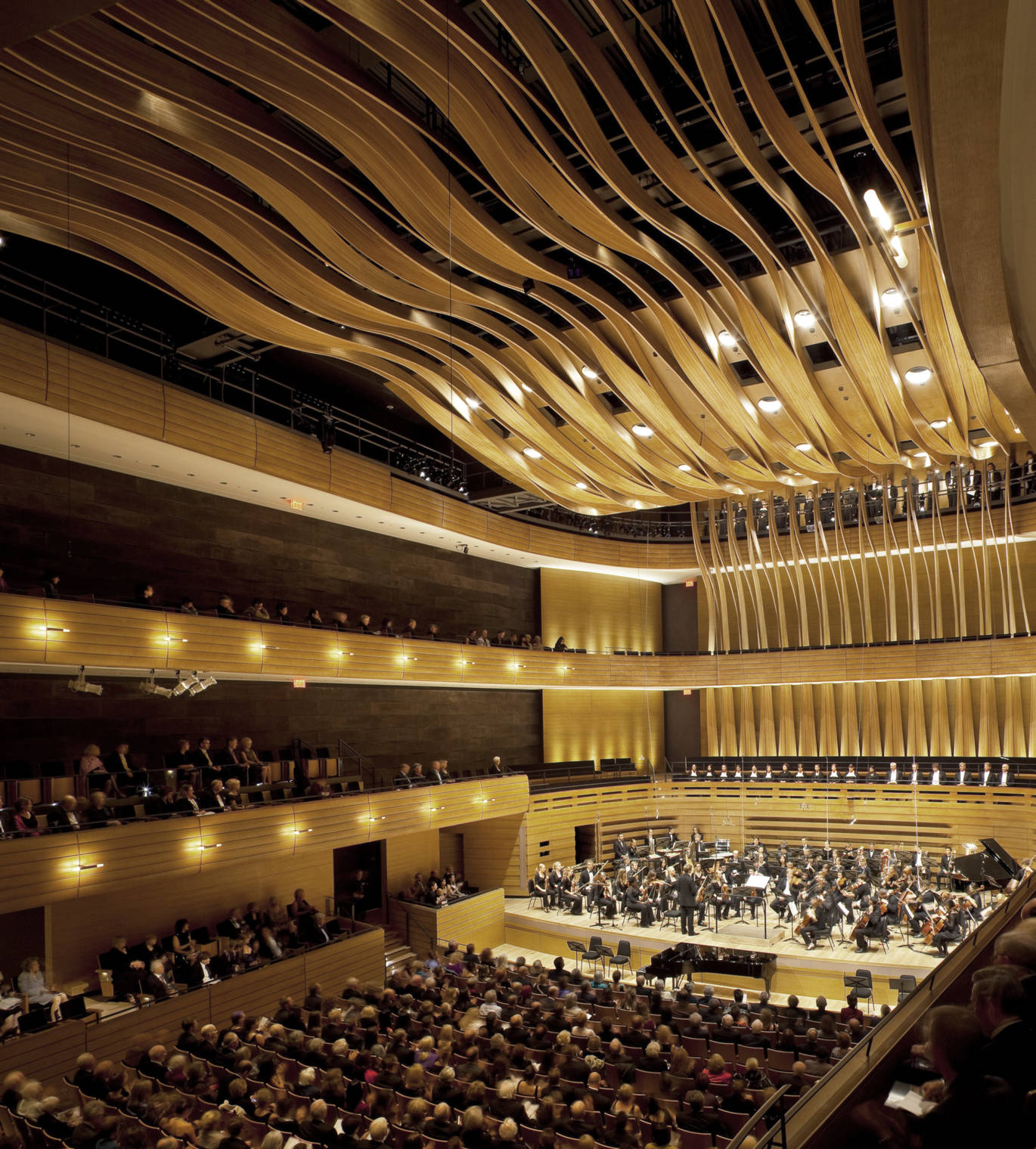 The Royal Conservatory of Music in Toronto had a vision of teaching and performance facilities reflective of its standing as a world-renowned centre of music education. Working with Toronto architects KPMB, Sound Space Design and Anne Minors Performance Consultants are proud to have helped to realise that vision creating TELUS Centre for Performance and Learning, including the 1140-seat Koerner Hall.
KPMB's flowing ceiling veil of large timber ribbons is Koerner Hall's visual signature, linking the technical systems yet obscuring them, allowing the sound through yet scattering it. AMPC's compact and engaging arrangement of people in the space works in counterpoint to the veil, fostering exciting artistic communication. For classical concerts RCM President Dr. Peter Simon requested that no performance technical systems should be visible in the Hall. AMPC ensured the visual integrity of the timber veil was not compromised through meticulous planning of the placement of lighting, technical elements, infrastructure and automation above the canopy, so that they may appear effortlessly on cue. AMPC's early recommendation to locate the Hall up one storey in the building unlocked solutions for get-in access and backstage accommodation. On stage,our considered integration of riser platforms into the stage design optimised onstage musical communication and audience sightlines.
Sound Space Design's acoustics work suffuses every note of every performance in the Hall, aiding the performers in communicating the most complex emotions to their audiences. It synthesizes the artists, performance, and Hall into the audiences' experience. Nuanced acoustical design of architectural detailing refines the sound; side walls finished in overlapping waves of gypsum tiles spread and blend the middle sound wavelengths that carry voice, wind, and brass strength. The Hall's acoustics also maintains profound silence to carry the full weight of musical emotion and drama.
Koerner Hall has won multiple awards and boasts the highest reputation acoustically, technically, and architecturally. The unity of physical and acoustical space conjures a unique, immediate and embracing musical connection attracting enthusiastic audiences and musicians of the highest calibre. The students of the Royal Conservatory of Music flourish in this truly world-class concert hall environment as they embark upon their professional careers.
Royal Conservatory of Music – 02
Author
Posted
When you leave here you will play in all sorts of halls, but very few will be as good as Koerner Hall.
Royal Conservatory of Music – 06
Author
Posted
Singing in the Koerner Hall was one of the nicest experiences of my career. The reason that I always loved to sing was that sense of sharing the wonderful texts and melodies of great songs. Every aspect of that process was not only possible but EASY in this beautiful and intimate hall. Standing on stage was such a joy and I rejoice that this beautiful hall will be filled with great music for years and years to come. Bravo to Sound Space Design and Anne Minors Performance Consultants for achieving that marvellous goal of creating a sensational acoustic. Bravo and thank you.
Royal Conservatory of Music – 01
Author
Posted
We worked with Anne Minors on the room topography of Koerner Hall and the shaping of the room through balcony fronts. Anne helped us to provide maximum backstage area and an intimate experience for performers and audience…Sound Space Design and Anne Minors Performance Consultants offer a unique balance of creative skills, expertise, and professionalism. Bob and Anne are team players, willing to collaborate and explore options to get the best solutions.
Royal Conservatory of Music – 03
Author
Posted
The work of the KPMB along with counterparts at Anne Minors Performance Consultants and Sound Space Design has resulted in a first class concert hall that is garnering rave reviews from artists, audiences, critics and donors.
Royal Conservatory of Music – 04
Author
Posted
Koerner Hall proved to be a generous partner in the enjoyment of Tafelmusik's Messiah, burnishing the sound with its kind acoustics, and helping provide a connection between the stage and audience. The voices, music and mood at Koerner Hall melded in an uncommon alchemy. It's impossible to imagine this quasi-operatic score getting a more appropriate performance than this.
Royal Conservatory of Music – 09
Author
Posted
Koerner Hall, as other halls by the magicians at Sound Space Vision, combines two qualities which used to be thought incompatible. It is forensically clear with great impact and balance, but it also has sumptuous warmth and depth. I don't know an acoustically more perfect space for acoustic music in North America.
Royal Conservatory of Music – 05
Author
Posted
We're going to be known as a great hall! The building is sympathetic to what people want to do… And the sightlines are exceptional. When you think of the number of seats, it's really intimate. Anyone in the hall is immediately connected to the stage.
Royal Conservatory of Music – 07
Author
Posted
It's a beautiful space for music, in every way.
Royal Conservatory of Music – 08
Author
Posted
There is no aspect of this hall that I wish could be any other way.