La Maison Symphonique
Montreal, QC, Canada
Built to the most exacting international standards of natural acoustics
La Maison Symphonique
Author
Posted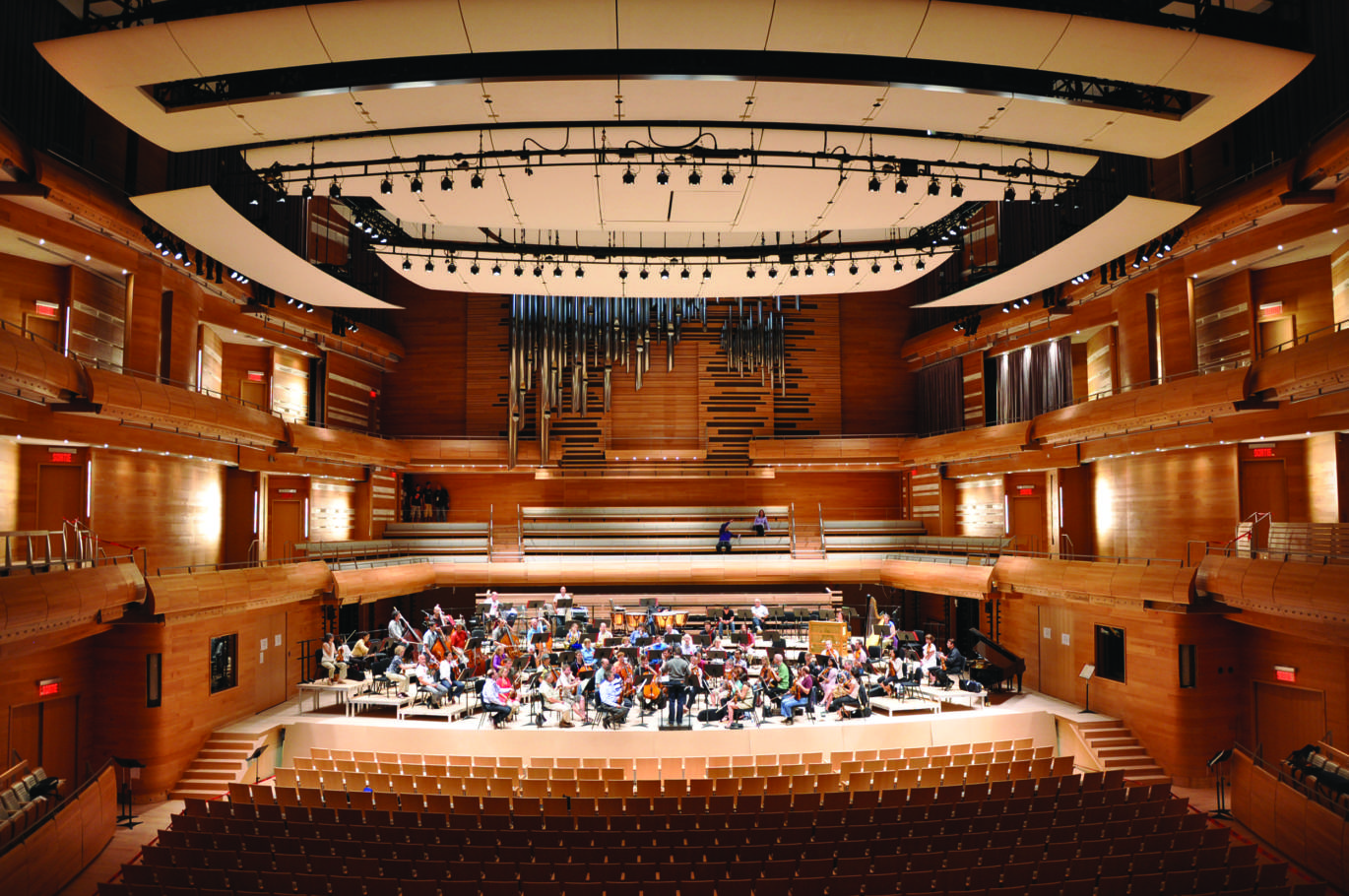 The new symphony hall in Montreal, Maison Symphonique, was born of a public-private partnership (PPP) process and is the new home of the Orchestre symphonique de Montréal (OSM). Sound Space Design collaborated with Diamond Schmitt Architects / Ædifica Architects and engineer-contractors SNC-Lavalin in a design competition in 2008. After a year of design, with periodic review by Quebec's Ministry of Culture, our design was chosen as the winner, bringing the best quality at the best price to the public of Quebec.
This new 2,100 seat concert hall is tall and narrow with multiple balconies in order to sustain resonance and involve the audience in the sound. Although not "shoebox" in form, it owes some of its heritage to this successful geometry. The acoustical design is married to the architecture of the room. The auditorium design is a layering of convex curves of varying size, yet with architectural unity. This creative collaboration brings both a richness of sound and of architecture.
The audience wraps around the performance platform, helping to balance the loudness and timbre of the orchestra, tying the performers and audience together in a unified intimate experience.
Through science, design and experience in the service of music, Maison Symphonique allows the OSM to show its true colours – timbres heard on OSM tours in great halls around the world, but previously not heard in Montreal.
Opened September 2011.
La Maison Symphonique – 01
Author
Posted
Many modern halls have big, bright acoustics. La Maison has mellowness and warmth: during the Vivier work Ms. Wall's angelic solo soprano lines penetrated the space easily…the overall acoustics are resonant and clear.
La Maison Symphonique – 02
Author
Posted
One of the greatest halls I've ever played in.
La Maison Symphonique – 03
Author
Posted
…the fulfillment of a dream that the orchestra has been waiting for through its 77-year history.
La Maison Symphonique – 04
Author
Posted
Where the acoustics seemed, paradoxically, the most compelling was during Bell's solo cadenza. Everything was warm, present and beautiful.

Who could have predicted it to be perfect for chamber music?
La Maison Symphonique – 05
Author
Posted
Its shoebox shape has a functional beauty that reminded me of our R. Fraser Elliot Hall and, as one might expect, the acoustics are glorious: detailed, warm, rich and transparent.
La Maison Symphonique – 06
Author
Posted
The best innings in the main work, the same Beethoven symphony, came in the flowing adagio. The violins' intelligent cantabile line had real warmth, character and unforced presence. Every instrument in the orchestra sounded more like itself than at Wilfrid-Pelletier, because we were getting so much more information. The hall was delivering more of the complex profile of overtones that distinguish one instrument's sound from another, and that flavour every note.
La Maison Symphonique – 07
Author
Posted
Music from high and low registers projected well, a good sign acoustically.
La Maison Symphonique – 08
Author
Posted
The following week the OSM gave us the Turangalîla Symphony, an apt choice to really test the hall's ability to handle both great masses of sound and a vast range of instrumental colours.

With Turangalîla, La Maison Symphonique emerged a winner as it easily handled the enormous volume throughout the work without distortion, and most instruments could be clearly heard in both soft and loud passages…