Spiritland Royal Festival Hall
London, United Kingdom
Acoustics for a "dining room of sonic architecture"
Spiritland Royal Festival Hall
Author
Posted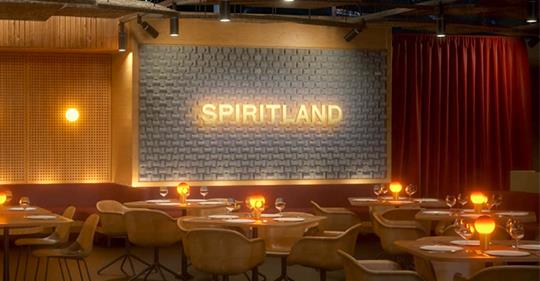 At SSV, we believe that all gathering spaces benefit from a holistic approach to design for all the senses. Recently, we applied our critical listening and musical acoustics skills to the development of a new restaurant dedicated to music and enhancing patrons' experiences.
SSV was brought on board by Spiritland to assist with the refurbishment and fit-out of its elegant new restaurant located within the Royal Festival Hall in London's Southbank Centre. Spiritland described their vision as a "dining room of sonic architecture," Spiritland Royal Festival Hall tasked SSV with specifying and recommending finishes, materials, enhancements and corrections sympathetic with the company's ethos and design. These included sound absorbing curtains and an array of ceiling-hung baffles, sound-absorbing spray applied across the restaurant's ceiling, perforated timber panelling, and ceiling tiles and wall panels incorporated in the kitchen.
"We've endeavoured to create a space that combines a sense of intimacy with its own unique acoustic signature." Patrick Clayton-Malone, Spiritland Creative Director
Spiritland Royal Festival Hall – 06
Author
Posted
Here, acoustics are everything—the quality of the sound has been carefully considered…
Spiritland – Royal Festival Hall – 01
Author
Posted
This may have been the most perfect dining room for acoustics we'd ever been in… You can actually hear what your dining companions are saying even with the music on pretty loud.
Spiritland – Royal Festival Hall – 02
Author
Posted
We worked extensively with acoustic consultants Sound Space Vision to 'tune' the room to allow both deep listening and conversation.
Spiritland – Royal Festival Hall – 03
Author
Posted
Evocative of an old school music venue, characterised by meandering booths, perforated wood screens and heavy velvet curtains..and a wall feature hewn from acoustic foam further punctuate the Spiritland's tribute to music.
Spiritland Royal Festival Hall – 05
Author
Posted
Its interior is meant to emphasise diners' sonic experience…
Spiritland Royal Festival Hall – 07
Author
Posted
The space been designed to offer a great listening experience.