Royal Academy of Arts
London, United Kingdom
Creating a 21st century multi-purpose chamber
Royal Academy of Arts
Author
Posted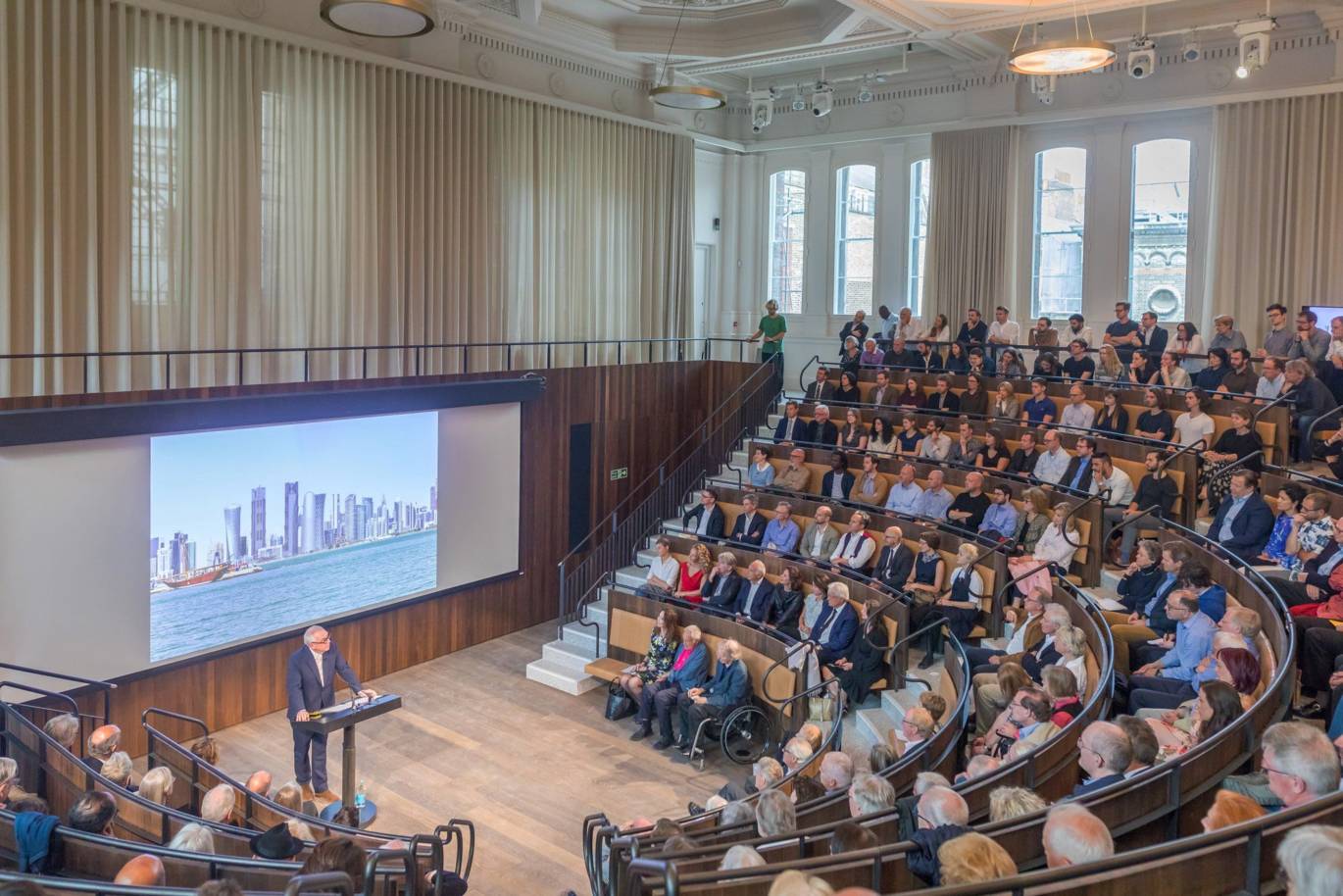 The Royal Academy of Arts was established in London in 1768 as a unique, artist-led body for the practice, appreciation and understanding of art.
In 2008, architect Sir David Chipperfield RA was appointed to oversee a bold transformation of the Royal Academy of Arts estate, linking two existing buildings and provide impressive new facilities for exhibition and education.
In 2012 Sound Space Vision was appointed by the RA to advise David Chipperfield Architects (DCA) on a proposed new 250-seat lecture theatre to be delivered as part of the transformative works. Built within the shell of a 19th century university lecture hall, the new lecture theatre was to be an arena for education and debate, as well as a high-quality space for recitals, film screenings, events, and corporate hire. SSV were asked to assist in the design of the seating geometry, to advise on and design acoustic solutions, and to design production lighting, sound and audio visual systems, all in sympathy with the Grade II listed interiors. Subsequently, SSV's role was expanded to offer acoustics advice on all the new gallery and learning spaces as well.
Working with DCA, we progressed the original concept design of the theatre's seating rake, developing it into an intimate and convivial contemporary bowl shape. This shape improved sightlines to the stage and screen whilst also enhancing visual connection between audience members to facilitate lively debate between academicians. We also worked extensively with DCA, conservation architects Julian Harrap and the Royal Academy to devise sound-proofing and ventilation noise attenuation solutions to satisfy concerns of he RA's immediate neighbours and meet stringent planning restrictions. Providing an excellent room acoustic, whist also supporting the heritage features of the space was also paramount.
Our careful design of the technical systems has provided lighting positions, projection equipment, and loudspeakers that blend into the décor. And, our bespoke and visually discrete microphone arrays for pickup of audience contributions and sound isolating enclosures for the high output projectors to prevent nuisance fan noise, are also highly prized. Crucially, SSV was instrumental in providing visible projections in a day-lit room, and discreet and innovative solutions to the acoustic dampening of a highly-reverberent room.
The Royal Academy of Arts' transformation was completed in time for the institution's 250th anniversary in May 2018, and reaffirms the RA as one of the world's leading centres for fine art exhibition and education. The extraordinary transformation, and particularly the newly-named Benjamin West Lecture Theatre, has garnered considerable public and critical acclaim, and the RA has taken full advantage of this unique and adaptable space. And attendance has followed suit – in 2018 it was up 52% over the previous year.
RAA – 03
Author
Posted
The elegant lecture theatre, lit by clerestory windows, is a masterpiece in its own right. As a whole it is one of the century's finest restorations.
RAA – 01
Author
Posted
This auditorium is magnificent: intimate yet, I suspect, capable of generating the electric atmosphere of a bullring.
RAA – 02
Author
Posted
The masterful highlight is the new lecture theatre, excavated out of a double-height volume in the east wing. A modern interpretation of a horseshoe operating theatre…allowing light to be shed on the RA's lively programme of discussions and debates – a rare delight compared with most black-box auditoria.