Friends House
London, United Kingdom
A framed daylight to inspire every activity
Friends House
Author
Posted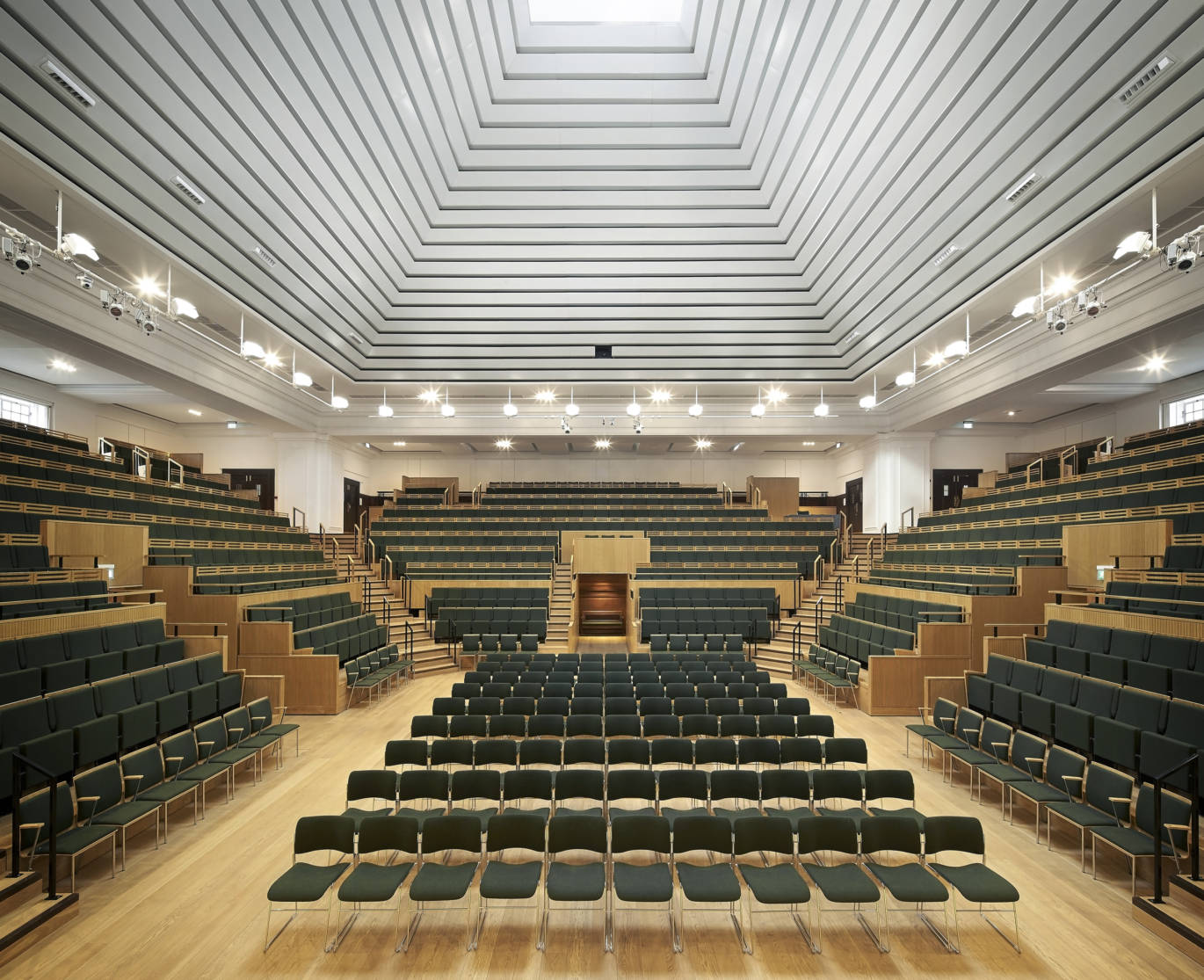 Friends House in the Euston neighbourhood of London is the centre for the nationally-managed work of Quakers in Britain. Originally completed in 1926 the building is Grade II listed and comprises over 6,000 square metres of accommodation. John McAslan + Partners and Anne Minors Performance Consultants won the competition to renovate the building in 2009, with Sound Space Design joining to refurbish the Large Meeting House.The largest space in the building, the Large Meeting House seats over 1,000 and hosts the Quaker four-day Britain Yearly Meeting and numerous committees, and is also offered for commercial hire mainly to public and third-sector organisations.
The team developed a refurbishment scheme for the Large Meeting House that better suits the needs of Quaker worship and modern conference and performance use, whilst also improving accessibility and sustainability.
Vital for Quaker worship is the ability for people to see and hear everyone else in the room; this was achieved by optimising the acoustics and seating layout for amplified and natural speech communication. The acoustical goals for SSD included very low background noise, good speech intelligibility for both unamplified and amplified events, and negligible outside noise disturbance from the nearby busy Euston Road and other activities within the building.
Responding to the wide variety of seating layouts and seat counts requested, AMPC devised an imaginative and flexible seating design where generously sized seats with armrests may be transformed into bench seating when maximum audience capacity is required. McAslan designed an inspiring new soaring pyramidal ceiling for the space topped with a generous skylight, which was faithfully realised through the careful selection of acoustical materials and exacting integration of technical equipment. The ceiling's design inspired the new name of the space, The Light.
The variety of seating configurations and agile technical systems enable The Light to host a multiplicity of events. The Light is now in high demand for lectures, conferences (including live streaming to break-out spaces), product launches, graduations and exhibitions, and for use in cabaret format. Dance companies are also attracted to The Light by the excellent audience sightlines afforded by the steep seating rake.
Friends House – 01
Author
Posted
We have been delighted with our experience of working with Anne Minors and her team. She has a very collaborative approach to working with clients and took care to be sure that she understood our requirements 'from the inside.'