The Brearley School, Partner Schoolhouse
A stand-out auditorium for a new school building
The Brearley School, Partner Schoolhouse
Author
Posted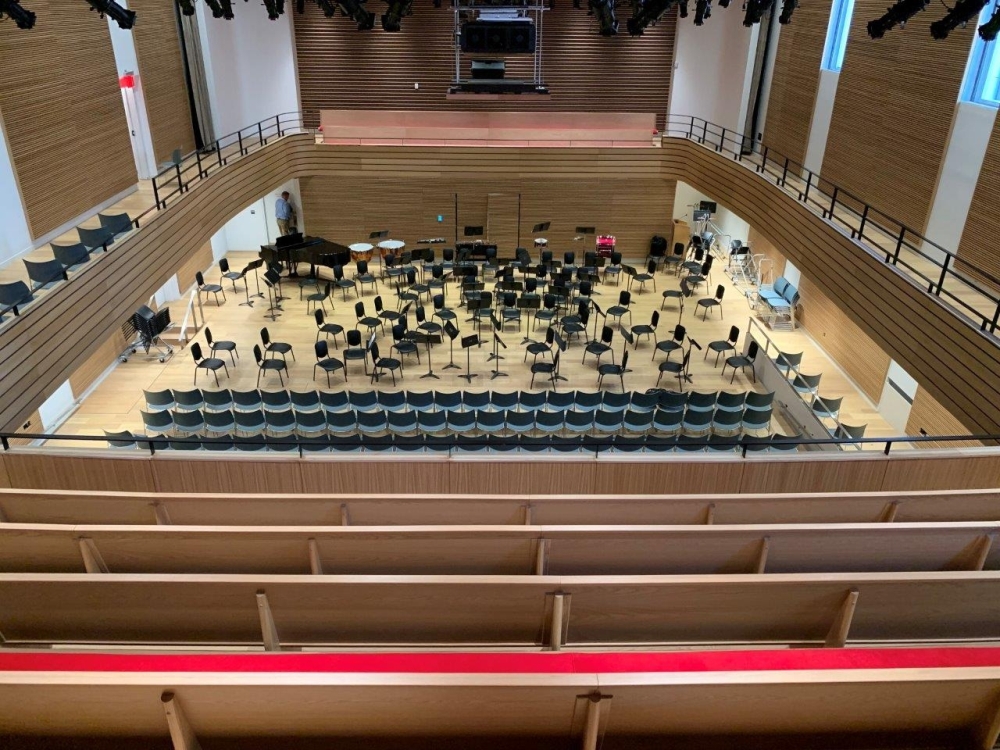 As the centre of the prestigious girls' school in Manhattan, the Auditorium in The Brearley School's newly-opened building (next door to its long-established home at 610 East 83rd Street) was envisioned by the client as a space for assemblies, meetings and lectures, musicals and dance performances, film screenings, fairs and formal dinners. Located on the sixth and seventh floors of the new building, between classrooms and a café below and the gymnasium above, the Auditorium's height and area was limited necessitating considerable planning and imagination to mitigate acoustical and theatrical constraints. The wide remit of functions mandated flexibility in form, seating, technical infrastructure, and material finish.
Given the broad range of stage and seating configurations required, SSV painstakingly worked through over two dozen designs to achieve a room that offered maximum adaptability, very good sightlines, a 600-person capacity, and theatrical and acoustical functionality, ease of use and clarity of sound.
SSV's technical concept included a mechanised and sloped floor system with four independent motorised floor platforms which allow for changeovers between a flat floor set-up for conferences, meetings, banquets, assemblies; a raked floor preferable for performances, speeches, and lectures; and, a terraced floor set-up useful for events such as cabarets, dinner performances, when a flat floor and a view of the stage are necessary simultaneously. Other theatrical specifications included a versatile sound system, quiet large-format projection, comprehensive infrastructure for cabling, theatrical lighting options. The ceiling combined acoustical reflections and motorised rigging pipes to support lighting, speakers, screens and curtains, which disappear between the ceiling panels.
In order to squeeze high-quality acoustics into a compact package, SSV recommended a series of sound-scattering screens hugging the walls along the back of the stage and the sides of the Auditorium. As developed with KPMB, these open wood panels spread the sound evenly and help control the sound levels when the room is used by large musical ensembles (orchestra, band). While they are integrated into an overall architectural and technical design, they also help improve the warmth of tone, and provide a significant advantage of cleverly concealing technical infrastructure.
For clear-speech acoustics the wall finishes needed to include considerable sound absorbing surface area, while the ceiling needed to remain solid for reflection down into the sound absorbing audience. For good acoustics for unamplified classical music, the room finishes need to reflect virtually all the sound. Variable acoustic curtains can be used to adjust the acoustics between sound reflective and sound absorbing in a simple, low-cost, low-maintenance fashion.
With these and many other innovation and specifications, Sound Space Vision has provided state-of-the-art facilities to unlock the full power of Brearley's program for young women and girls.
Sound Space Vision was joined by Stages Consultants to bring this optimised design to fruition.
The Brearley School, Partner Schoolhouse_01
Author
Posted
The Hall looks, feels, and sounds wonderful. Everyone is beyond thrilled. We did not know it would be so special. Thank you.
The Brearley School, Partner Schoolhouse_02
Author
Posted
The Performance Hall, in particular, is a very special place and we are so pleased with the work you and your teams have done.