New Town House, Kingston University
Kingston University's new 'front door'
New Town House, Kingston University
Author
Posted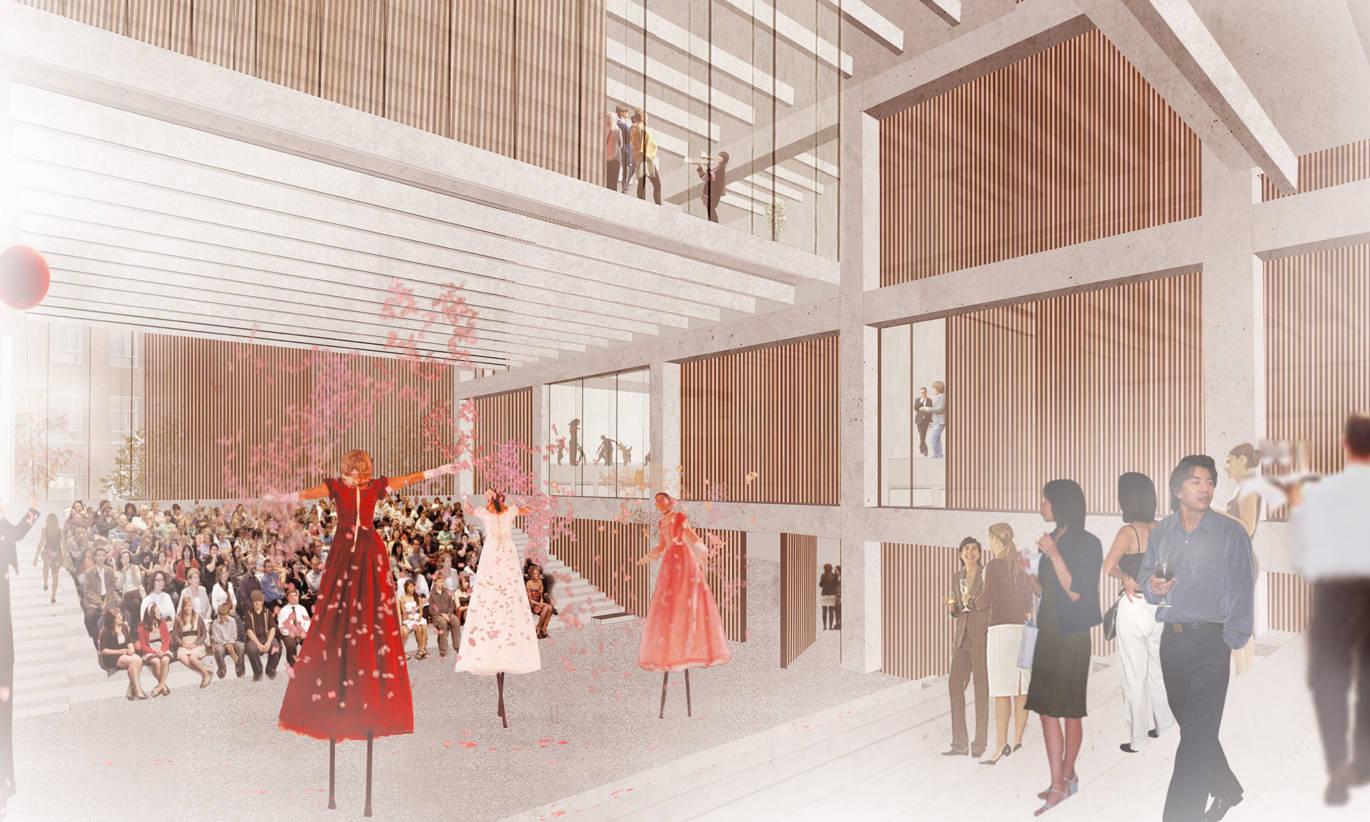 The New Town House is the landmark building for Kingston University's main Penrhyn Road campus housing a specialist performance teaching space and an internal courtyard events/gathering space. It won the 2021 RIBA Stirling Prize, RIBA London Region Award and the 2021 Civic Trust Award.
The building has a strong civic feel opening onto the street to welcome students, staff and alumni, as well as the local community and visitors from further afield. The new building also comprises a learning resources centre across several floors, specialist dance rehearsal studios, cafes, and public landscaped areas. Sound Space Vision's technical and performance planning design supports the University's requirements for lectures, drama, dance, and live music.
The central courtyard is a flexible space which hosts lectures, talks and performances with amphitheatre-style seating on three sides of a flat floor area. SSV designed performance infrastructure to support projection and performance lighting & sound with a permanent control position. When not in use a sliding wall can be moved away to open the courtyard up to the rest of the building to create a spacious milling space with natural light. SSV was tasked with designing flexible infrastructure that could seamlessly integrate into the architecture while enabling this core central courtyard, which has observation windows from higher floors, to showcase a wide range of activities. With no segregated technical areas apart from a rack room and the high level windows near rigging points the aesthetic of the facilities were of great importance to ensure a unified look.
The performance teaching space was designed to be flexible use with maximum possible flat floor area and suitable technical facilities for performances. This was by locating the wheelchair accessible permanent control position on the floor above giving optimized view without impacting on stage size and by SSV designing a retractable seating unit to give flexible high quality seating. For both the control position and seating sightlines were carefully examined to ensure optimised special efficiency.  Rigging positions are provided by a motorised grid and various perimeter Unistrut with facilities for technical equipment to give a space suitable for high quality performance.