Storey's Field Centre, North West Cambridge
Cambridge, United Kingdom
A multi-award-winning community centre and performance hall
Storey's Field Centre, North West Cambridge
Author
Posted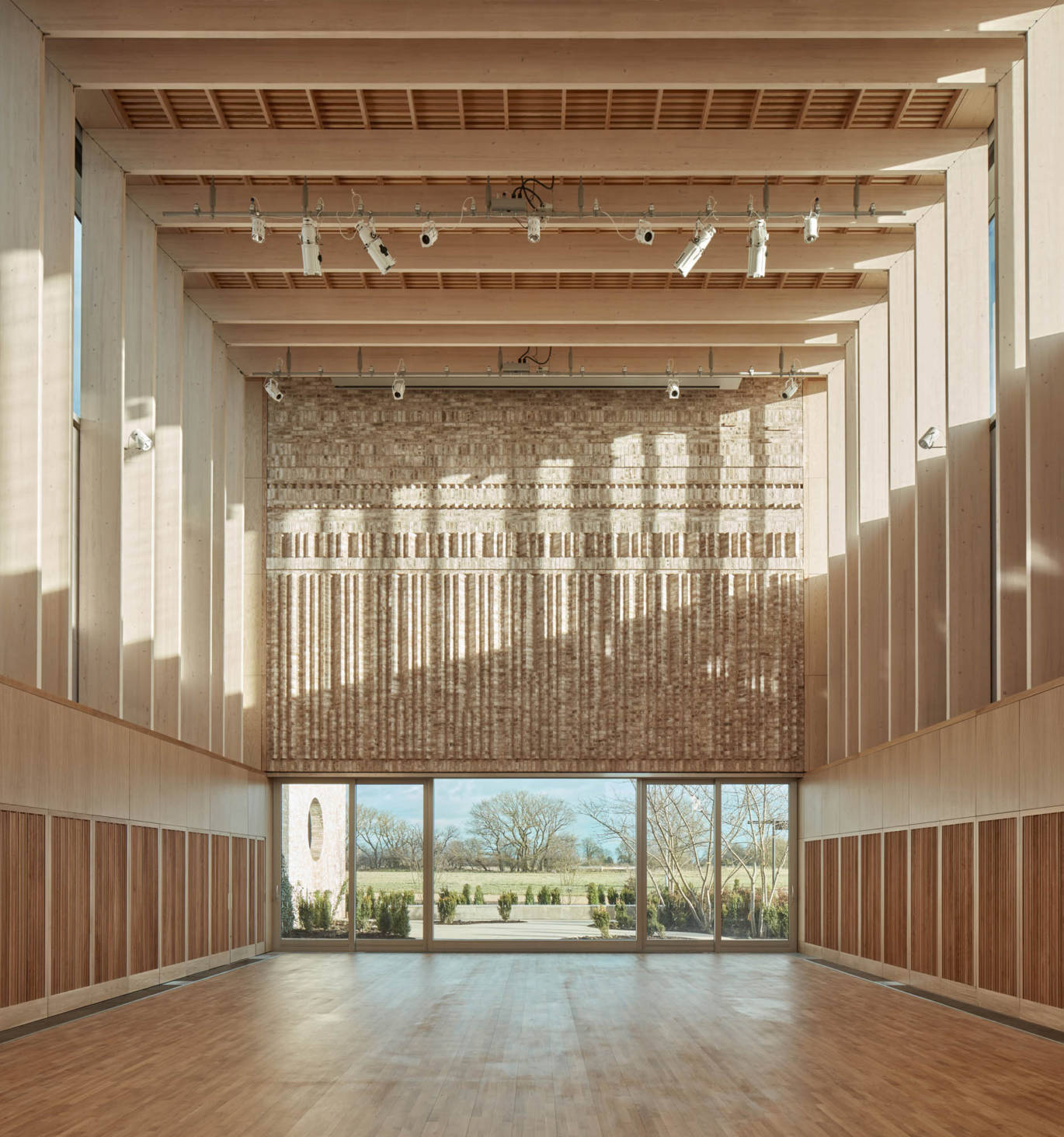 Led by the University of Cambridge, the Northwest Cambridge Development is a housebuilding and landscaping project covering a 141 hectares site on the outskirts of the city. In addition to providing housing for approximately 5000 private residents, keyworker University staff, students, and post graduates, the new village is serviced by a primary school, a supermarket and shops, a health centre, and a community hub – Storey's Field Centre.
Sound Space Vision, appointed to work with architects MUMA on the Centre's meeting rooms, concentrated on the Main Hall. The brief from the outset was for the Storey's Field Centre to be 'a building of the highest calibre', and envisaged as a social hub serving everything from Zumba classes, Brownie meetings, and parties, to lectures by Nobel Prize-winners, and rehearsals and performances by local and professional choirs, ensembles and bands.
SSV designed an invitingly warm acoustic environment for the Hall that is comfortable for conversation and spoken word, and flexible for music through the adjustment of motorised acoustic banners. We also created performance lighting, sound and projection systems in the Hall which are robust, high-quality and straightforward to use.
The result is a stunning triple-height Hall complete with fully-sprung floor and technical control gallery; a Hall that offers local residents an excellent resource on their doorstep to host youth theatre groups, storytelling nights, community choirs or film clubs, etc., and a small-scale venue to welcome professional performers.
Storey's Field Centre was completed in February 2018 and is already the heart of its new community.
The building won AJ's 2018 Design of the Year Architecture Prize, was shortlisted for the 2018 RIBA Stirling Prize, and won two 2019 Civic Trust Awards, including a Special Award for Sustainability.
North West Cambridge Development – 05
Author
Posted
The inside of the hall is a beautiful balance of function, sustainability, acoustic performance and expression of materials. Here is an example of the very best in British architectural design, offering ideas, skill and care in ways that transform the human use and experience of the building at every opportunity.
North West Cambridge Development – 06
Author
Posted
This remarkable building – which was on the Stirling Prize shortlist and tipped as the favourite to win – is finely wrought, intelligent, strong in form, yet subtle in its detail. It's an exceptional creation and a deserving winner of this year's Design of the Year. 
North West Cambridge Development – 04
Author
Posted
The details of acoustics and many aspects of theatre planning are intrinsically embedded into the architecture. We want audiences and the performers to remember the event and the hall as one, and I think we've done that here.
North West Cambridge Development – 01
Author
Posted
Storey's Field Centre really fills a gap in Cambridge for bands looking to play in a small- to mid-sized music venue. There isn't another one like it in the area.
North West Cambridge Development – 02
Author
Posted
The hall is an example of how passive technology, when orchestrated with a lightness and sureness of touch, can be used to help form the language and even poetics of the architecture. This building is an inspiring model for how a green agenda can enrich architectural form and public space.
North West Cambridge Development – 03
Author
Posted
Our vision at SSV is to complement the architecture of a space and to give the Client a very high level of design, finish, and functionality at the lowest possible cost – usually well beyond their expectations.