Read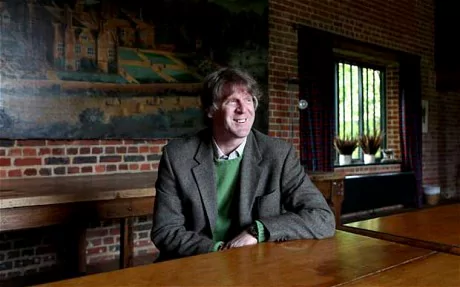 by Roya Nikkhah, The Telegraph, May 29, 2011.
As he opens his sprawling estate to opera fans, John Paul Getty's reclusive grandson Mark gives a rare interview.
Today, the sound of winching and drilling fills the air, as builders erect a huge new pavilion in the grounds that, from next month, will serve as the home of Garsington Opera. The most genteel of fixtures in the summer season is moving from the beautiful but impractical Garsington Manor in Oxfordshire to Wormsley…. "I love opera," he says matter-of-factly. "I'd been to Garsington twice, and thought it was incredibly beautiful and so well done, and, when I heard that they were looking for a new home through a friend of mine, I thought it would be a terrific thing to happen here."
Few names are as synonymous with vast wealth as that held by the Getty clan. For 35 years, scions of the oil tycoon J Paul Getty, who left a £1.6 billion legacy upon his death in 1976, have been renowned for two things: plenty of money and plenty of family dramas. With the billions have come affairs, divorces, addictions and untimely deaths.
So a meeting with Mark Getty, multi-millionaire grandson of J Paul Getty and son of the late, troubled philanthropist, Sir Paul Getty, prompts a flurry of preconceptions. Getty, however, is used to it. "Rich, arrogant, lucky, mollycoddled and stupid," he says, ticking off each characteristic on his fingers. "That's always people's preconception." Does it bother him? "You get used to it, and you use it to your advantage."
It is hard not to assume Getty is not at least some of the above while wandering through the majestic grounds of Wormsley, the 2,500-acre estate in the Chiltern Hills left to him by his father in 2003. The estate is so sprawling that discreet wooden road signs guide your way and staff navigate the estate in golf buggies.
The grounds include farmland, a deer park, a replica of The Oval cricket ground (installed by the cricket-mad Sir Paul after Mick Jagger introduced him to the sport), a purpose-built castle to house the Getty book collection of Chaucer manuscripts and Shakespeare First Folios, and an 18th-century manor house that boasts an art collection of Gainsboroughs, Rossettis, and all the biggest names in contemporary art – Ed Ruscha, Jeff Koons and Banksy, the graffiti artist.
Today, the sound of winching and drilling fills the air, as builders erect a huge new pavilion in the grounds that, from next month, will serve as the home of Garsington Opera. The most genteel of fixtures in the summer season is moving from the beautiful but impractical Garsington Manor in Oxfordshire to Wormsley.
I wonder why Getty, who is fiercely protective of his privacy, has agreed to this rare interview – and, indeed, is opening up Wormsley to allow thousands of people, perhaps even more interested in a sneak peek into the Getty world than the libretto, to ramble around his home?
"I love opera," he says matter-of-factly. "I'd been to Garsington twice, and thought it was incredibly beautiful and so well done, and, when I heard that they were looking for a new home through a friend of mine, I thought it would be a terrific thing to happen here.
"Why here and why have this invasion of my privacy? Well, it's a big place, and the idea that one person should occupy it all, all the time, alone, is kind of absurd," he laughs. "People say to me, 'My God, how do you put up with it? You're going to have thousands of people descending on you throughout the year.' But I love it – I love the sound of the work in the morning and people milling around."
When he says this, there is a touch of loneliness about Getty, 50, who is rumoured to be divorcing Domitilla Harding, his wife of 28 years, with whom he has three sons, Alexander, 25, Joseph, 22, and Julius, 21. While he frequently travels to America for business, when at Wormsley, he appears to rattle round the house on his own.
Before meeting Getty, I am advised that he is likely to "clam up" if I attempt to delve into notorious family sagas, but his transatlantic chatter is animated, particularly on the subject of opera, of which he has been a fan since his teens. Though Garsington is at the traditional end of the opera spectrum – the forthcoming season will stick to a safe bill of Mozart, Rossini and Vivaldi – Getty believes opera should not remain the traditional, expensive and highbrow pastime of an "elite" few, and praises the efforts of English National Opera for its cutting-edge and often controversial modern productions; and the Royal Opera House's recent production of Anna Nicole, an opera about the former Playboy model Anna Nicole Smith, which he hopes will open up the art to the masses.
"I think if you try to put things into aspic, you lose them entirely. Opera is a key way of talking about life and all the things that are important to people in life. The stories are generally simple stories about simple people, having all the problems that life is concerned with – love, murder, hate, rivalry, all those things occupy us today. So they're not elite subjects; they're everyday subjects."
Getty knows whereof he speaks. His own family story reads like the juiciest of opera plots, so filled with twists and turns it could fill several volumes. A very potted history reads as follows.
After five marriages, multiple mistresses and five neglected sons, J Paul Getty, whose legacy includes two Getty museums in California, admitted before he died: "I built an empire, but I didn't build a family." His eldest son, Sir Paul Getty, whose mother Anne Rork had attempted suicide while pregnant with him, continued the troubled family saga. His first marriage to Gail Harris, a water polo champion, produced four children, including Mark and his elder brother John Paul III.
But, after divorce in 1964, he married the Dutch model and socialite Talitha Pol, and the couple lived in a heroin-fuelled haze between Rome and Marrakech until Talitha died of an overdose in 1971, leaving behind their three-year-old, Tara Gabriel Galaxy Gramophone Getty, Mark's half-brother.
Two years later, John Paul III, aged 16, was kidnapped in Rome by the mafia. Sir Paul turned to his father for the $17 million ransom but he refused, saying: "I have 14 grandchildren, and if I pay a penny ransom money I'll have 14 kidnapped grandchildren." Only when one of his grandson's ears was delivered to a Roman newspaper, with the threat that other body parts would follow, did J Paul give the money to his son, but only on loan, to be repaid at four per cent interest.
The kidnapping and mutilation left a lasting impact on J Paul III's life, leading to drink and drug addiction. At 18, he married the German actress Martine Zacher, and the couple had a son, Balthazar, now a Hollywood actor, who, while married with four children, created his own controversy in 2008 when he was photographed kissing a topless Sienna Miller.
J Paul III's addictions and health problems later led to liver failure and a near-fatal stroke in 1981 that left him a quadriplegic, almost blind, confined to a wheelchair and unable to speak. Together with his mother Gail, J Paul III, who became estranged from his father, later had to take Sir Paul to court to get him to pay for his medical care, which had been refused. He died in February this year, aged 54.
Mark Getty's sister, Aileen, was formerly married to Christopher Wilding, Elizabeth Taylor's son. She was diagnosed HIV positive in 1985 after an affair.
After decades of family tragedies, Sir Paul, a philanthropist who donated millions of pounds to the National Gallery, developed severe depression, and in 1984, checked himself into the London Clinic, where he spent long bouts trying to overcome his depression and drug addiction. Baroness Thatcher, who secured his knighthood for philanthropy – he donated more than £140 million, including £50 million to the National Gallery – was a regular visitor, and is believed to have eventually encouraged Sir Paul to check out of the clinic.
In 1994, he married his long-term companion, Victoria Holdsworth, and retired to Wormsley, which he lovingly renovated and where he finally found relative peace, indulging his passions for cricket, books and art. He died in 2003.
Mark Getty, who inherited Wormsley, is all too aware that his grandfather's billions have not brought the family happiness, with many members of the clan relying on the Getty fortune, only to later experience misfortune.
After a childhood in Italy, followed by boarding school in Somerset and a politics and philosophy degree at Oxford, Getty went into investment banking in New York, before joining Hambros Bank in London. In 1993, he co-founded Getty Images, now one of the largest photographic agencies and archives in the world, and a prominent part of Getty's estimated £350 million fortune. He has numerous other business interests and is also a hands-on chairman of the National Gallery, as well as a generous patron of the arts.
Simply resting on the Getty laurels never occurred to him. "I was raised in Italy for the early part of my life, in a relatively small village near Siena, and everyone worked there, from the day that they would walk to the day that they died, so I didn't really see that I was particularly different.
"Most people, if they have an opportunity to do little, will do just that, particularly if you're born into money. I could have easily done nothing, but it would have been boring and unfulfilling. You only live once, and I never wanted to live in anyone else's shadow. If we were guaranteed that we lived many times, then I'd probably accept it, but, of course, I know it's just the once."
I ask if the Getty name, with all its associations, had been a help or hindrance as he tried to forge his own way in the business world. "It's more of a help, no question. It opens a lot of doors. Never believe a rich person who moans about their plight in life."
Getty is also adamant that his three sons make their own way in life. "I don't lecture them over the breakfast table, but we no longer live in a world where rich people can avoid all the sorts of things in life that make other people wake up in the morning and actually be fulfilled. They are going to have to work and they know that. Not because they have to make their money, but because they have to have a purpose."
Strolling over the cricket ground to have his photograph taken, Getty resembles a trendy country squire, in blue jeans, green cashmere jumper, Dolce & Gabbana brown suede loafers and a taupe tweed jacket, which the wind blows open to reveal a Gucci label.
Sir John Major and the late Queen Mother, both close friends of Getty's father, were regulars at Wormsley's legendary cricket matches, and Getty remembers the latter with affection. "She was just an extraordinarily friendly, open, adventurous curious person. She was always driving round the country to see what was going on, and I remember her turning up here one day just to see how the building was going on the library. She had insatiable curiosity and enormous energy."
Next to the cricket pavilion stands a conspicuous red phone box, which Getty enjoys explaining, telling me of the long-held, but false, rumour that his grandfather installed a pay phone for guests in one of his houses.
"Utter nonsense," says Getty. "He actually installed a payphone for builders who asked for one when renovation work was being done. But rumours stick, so my father put in that phone box as a kind of joke in memory of his father, to poke fun at the rumours. Actually, there's an alternative phone box," he adds. "If you have a minute, I'll take you."
We walk round a few corners to the front of the library, where, lying on its side, with a pick-axe smashed through its glass pane, and red paint seemingly "bleeding" down its side, is another red phone box. I am confused.
"It's a Banksy," he says. "I bought it as a joke – the phone box is being killed, see? So I was killing off the phone box rumours." He laughs, clearly thrilled with his very expensive private joke (the phone box was bought for more than £370,000).
And that's the difference between his clan and the rest of us – mere mortals rely on telling jokes; Gettys buy Banksys.
* Garsington Opera is at Wormsley from June 2 to July 5. For tickets, call: 01865 361 636 or visit www.garsingtonopera.org
---
Source
Roya Nikkhah, Arts Correspondent, The Telegraph, 29 May 2011
To read the full article please click the following link