Amphitheatre Art Gallery Assembly Ballet Cabaret Comedy Community Concert Concert Hall Conservatory Dance Dining Drama Educational Featured Project Festival Flexible Multifunctional Music Musicals Opera Performing Arts Centre Read Refurbishment Rehearsal Theatre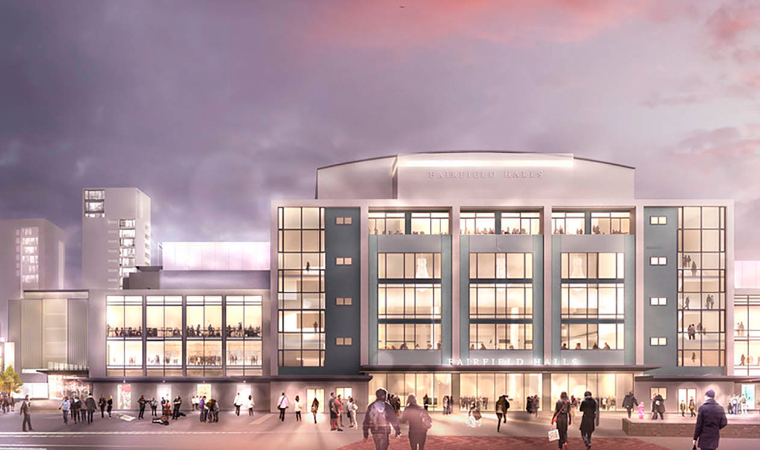 In hard hat, protective glasses, hi-vis jacket and boots, Neil Chandler looks more like a quantity surveyor than an artistic director, but this is his daily wear until September, when the Fairfield Halls, Croydon, will finally reopen after three years of refurbishment and expansion – work that aims to place it back at the heart of the community, acting as an artistic catalyst for the two million people who live around it.
Chandler talks excitedly about the opportunity that the rebuild gives to create a new function for the Halls as a centre for creative learning. "It's about encouraging an audience for the future for our music and theatre here, and about making local people feel involved," he said.
On a tour of the building, we picked our way through busy electricians, plasterers and plumbers and stepped into the huge, light and airy space of the main foyer, which he sees as central to his vision of a cultural hub. He says it will be open from 10am to midnight every day, with free live entertainment, art exhibitions and a bar. He wants local people to feel the building is theirs to use. "We want them to see it as a place to meet friends, to listen to music, to look at art, to relax." He promises it will be an attractive venue, returned to its original 1962 décor, with even its unique chandeliers recreated.
Key to the revitalised Halls will be two new piano academies for local children, with hopes to expand to other instrumental training. And school groups will be encouraged to attend workshops and performances and get the bug for live arts.
Back in Chandler's cramped temporary office, housed in a busy village of portable buildings just behind the Halls, he expands on the ideas behind the two piano academies. "There were no pianos on site when we arrived here, so Fred Scott, my music associate and I set out to find a company that could help us." They did not have to look far: Sevenoaks is the home of Phoenix Pianos, a manufacturer keen to show off its range of instruments. In September, the Fairfield Halls will be supplied with a concert grand for the main auditorium – renamed the Phoenix Concert Hall – two other grand pianos, a baby grand and six uprights. They will be used throughout the week by pupils joining the Phoenix Piano Academy, open to pianists of Grade 6 standard and above.
Additionally, the Halls will become a franchise of the Yamaha Music School, with four- to five-year-olds being taught on Yamaha keyboards from November, with a second cohort of six- to seven-year-olds joining next year. "This is just the start of the journey. Croydon has a young population and we want to work with Croydon Schools Music Association and others to provide a home for teaching, not just the piano but other instruments, too."
That young population will also have an effect on programming decisions. Chandler explained that of the two million people who live in the catchment area, 48% are under the age of 25 and 54% are BAME (Black or Asian minority ethnic). "That means that there has to be something for everybody here. We have to offer an eclectic programme to entice people through the door."
"We've done our research, and currently 3% of the local population say they attend classical music concerts. Nationally, the figure is nearer 8%, so we have some work to do on that front, but we hope that by showing people that this is a building for them we can entice them to try new experiences."
Chandler is encouraging a jazz academy to be established in the foyer and local choirs are already expressing interest in performing there. He is also keen that new bands and ensembles should perform. "If they impress, we might ask them to support more established acts in our main venues, and that will help their careers," he said.
Chandler believes strongly that for the refurbished and expanded building to work it needs to be open to all throughout the year "If within six months to a year we have people being comfortably creative in lots of different corners of the building, we'll know we are doing the right thing," he said.
Fairfield Halls feels like a smaller version of the Royal Festival Hall, and indeed shares many of its design characteristics – but not its acoustic problems. Its 1,800-seat main concert hall, preferred by some conductors to other London venues, has also been returned to its original décor, retaining its wood-lined performing platform and choir stalls. It remains home to the London Mozart Players and will feature concerts by the BBC Symphony Orchestra and English Chamber Orchestra in its opening season. Nearby, there is also the 800-seat Ashcroft Playhouse.
In addition to these existing spaces, visitors will find several new facilities at the Fairfield Halls when it reopens, including
• The Recreational, a large, fully-equipped space that can accommodate 700 standing for rock concerts and other live events, or can be used as a conference space.
• A bar and cafe added on the side of the building which leads through to the John Whitgift Studio which seats 80 for intimate recitals and small-scale concerts.
• The flexible Talawa Studio, named after one of the UK's top black theatre companies, which will make its home there.
• A 120-seater studio space, built for Savvy Theatre, a company that creates accessible theatre experiences for all abilities and disabilities.
• A choir room offering space for local choirs to rehearse and a place for a key feature of the new Halls' future: its educational outreach.
• A membership lounge, open all day for those who pay £550 a year to enjoy its plate-glass windowed bar and veranda, and its Wifi and business facilities. Members can also use it as a pre-concert entertainment area. Their annual fees fund the daily free entertainment offered in the foyer downstairs – a neat piece of accounting.
• A glass-fronted bistro, with 65 covers indoors and a further 65 in an outdoor seating area.
Currently a workforce of 300 is on target to have the building ready to open on 16 September, a level of construction work that is being repeated across the town as Croydon undergoes a £5.2bn regeneration, with 5,000 new homes springing up like mushrooms in tall blocks all around the centre. Croydon's Labour-majority council saw the potential to make the revitalised Halls a cultural meeting place – not just for those about to move in to those new homes but for the entire borough – and funded for this multi-million pounds development with help from central government, thereby mirroring the postwar optimism that brought the original Halls into life. Soon the smart new building will be South London's largest arts centre.